What is rosemary?
Characteristics of rosemary (Rosmarinus officinalis L.)
Common name: Rosemary

– Spanish: Romero
Scientific name: Rosmarinus officinalis L.
Family: Lamiaceae or Labiatae
Habitat: It grows spontaneously in the Mediterranean scrub in the company of other plants such as thyme (Thymus vulgaris), lavender (Lavanda spp.) and rockrose (Cistus spp.).
Rosemary description
Very aromatic perennial shrub of the labiatae family up to 3 meters. Erect and branched stems.
Linear, glossy green leaves on the upper side and whitish hairiness on the underside.
Bilabiate flowers of a pale blue or purplish color with the stamens longer than the petals and the upper lip of the corolla curved. Fruit in the form of a tetra-achene.
The plant gives off a strong fragrance due to the presence of essential oils in leaves and flowers.
Rosemary harvesting and preservation
It is recommended to grow rosemary at home from cuttings of wild plants because because they are richer in phytochemicals than garden rosemary varieties.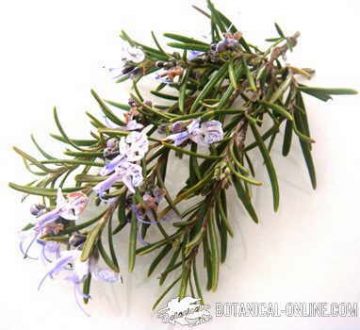 In the case of collecting the wild plant, the following reading is recommended: Guidelines for the harvest of wild plants.
Spring and summer are the two seasons to harvest rosemary leaves and flowers.
These should be dried in the shade and stored in a dry and dark place. The dried leaves are then placed in a tightly closed glass container, protected from moisture and light.
If you do not have the possibility of collecting the plant, it can be easily purchased at any herbalist or herbalist, market or store specialized in phytotherapy.
If you do not have the possibility of collecting the plant, it can be easily acquired in any herbalist, market or store specialized in phytotherapy.
Rosemary composition
We can mention the following components and active principles of rosemary:
Essential oil (1-3%): The composition of the essential oil depends to a great extent on the type of crop and the variety of rosemary due to the nature of the phytochemicals. Mainly composed of 1,8-cineole, alpha-pinene and camphor (20-50%), limonene, verbenone, camphene, borneol, myrcene, camphor, etc.
Phenols and terpenoids (especially in flowers): carnosol and carnosolic acid (powerful natural rosemary antibiotic), rosmarinic, rosmanol, oleanolic, betulinic, caffeic, and chlorogenic acids stand out. Rosemary is the richest plant in ursolic acid (potent hepatoprotective)
Flavonoids: diosmetin, diosmin, genkwanin, luteolin, apigenin
Minerals: its potassium and calcium content stands out. It also contains magnesium, zinc, copper, etc.
Rosemary uses

Rosemary is a plant that is used as:
Aromatic plant in the kitchen
Medicinal plant
Gardening plant
Honey plant: It also stands out as a honey plant, from which bees make the famous rosemary honey with very outstanding food and medicinal properties.


More information on rosemary
This article was endorsed by
Julián Masats
- Technical agricultural engineer specialized in horticulture and gardening.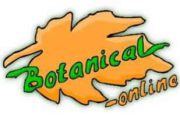 Written by
Editorial
Botanical-online team in charge of content writing