What benefits do fermented soy derivatives have?
What is the difference between soy foods with and without fermentation?
Surely many readers are already convinced of the benefits of soy for cancer, for menopause and for many other conditions, but when buying this food, they find themselves with the dilemma of fermented or unfermented soy derivatives. What is the difference between each other? Do they have the same benefits?
What soy and all its derivatives have in common?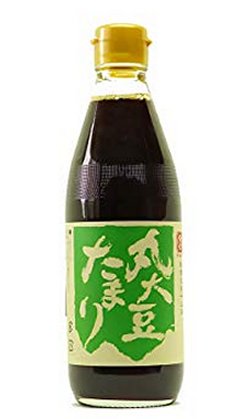 What all traditional soy products have in common is that they are very nutritious and healthy. Eating soybeans, tempeh, edamame or tofu is an economical and healthy way to obtain many proteins, fiber, vitamins and minerals, with hardly any fat.
In addition, this vegetable is, by far, the richest food in isoflavones, components with hormonal effect with potential health benefits.
Differences between fermented and unfermented soybeans
The main difference between fermented and unfermented soybeans is the bioavailability of isoflavones.
In fermented soybeans, isoflavones are easier to assimilate because they are in the form of aglicones, due to the transformation that bacteria carry out in the food during fermentation. Therefore, this class of soy derivatives will be interesting when it is interesting to provide isoflavones.
In contrast, in unfermented soy foods, the absorption of isoflavones depends on the intestinal flora or microbiota, that is, on the ability of our intestinal microbiota to ferment soybeans and degrade it.
When is it interesting to consume fermented soybeans?
In general, any traditional soy product is healthy because it is nutritious, whether or not fermented: tofu, tempeh, soy beans, edamame, miso, … Whether a soy derivative is fermented or not does not determine that it is better or worse.
On the other hand, there are currently many unhealthy soy products, such as soy muffins, soy sausages, and other types of ultra-processed soybeans.
Benefits of fermented soybean derivatives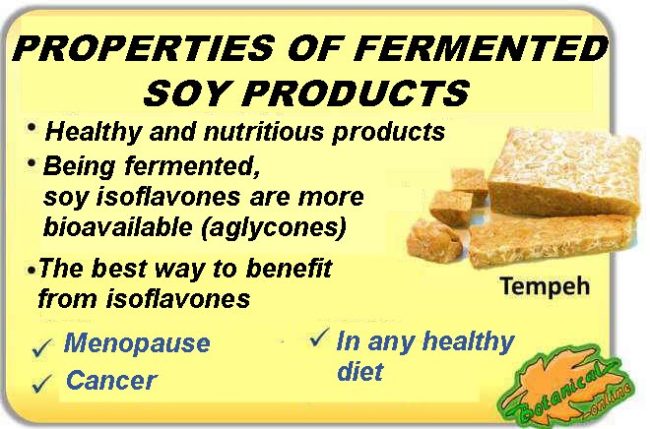 Consuming fermented soybeans may have some extra benefits, since it is the best way to obtain highly bioavailable isoflavones. It is especially recommended in the following cases:
What does it mean that isoflavones are bioavailable when they ferment?
Soy isoflavones are found in food in a form called "glycosides." To be absorbed, these glycosides must be transformed into "aglycones" by bacterial action (by the action of the enzyme beta-glucosidase). That is, soy isoflavones have to be metabolized by bacteria to release their antioxidant and protective compounds against cancer.
After bacterial fermentation, isoflavones are in the form of aglycones, which are smaller, lipophilic and assimilable compounds. Otherwise, isoflavones cannot be absorbed.
One of the soy aglycones that are very interesting is equol, a substance related to breast cancer prevention. It has been observed that a certain type of bacteria is capable of producing equol from isoflavone daizdein. This component has anticancer properties that are the subject of many studies especially against breast cancer.
The microbiota or intestinal flora is able to perform this transformation when it is accustomed to consuming soy, which occurs in Eastern countries .. This results in the recommendation that soy should be taken regularly to obtain these soy components.
In fermented soybean derivatives, isoflavones have been transformed into aglycones and are already absorbable. (more information)
List of fermented soy products
Axone (Akhuni): A type of curry made with fermented soybeans from India
Bekang: Fermented soybean mixed with wood-ash from India.
Chagem pomba: Fermented curry from India with soybean and some vegetables (Fenugreek, cilantro, dill,
Cheonggukjang: Fermented soybean from Korea
Doenjang: Thick fermented soybean paste from Korea
Doubanjiang: Paste from China, made with broad beans, salt, rice and spices.
Douchi: Black bean sauce from China
Fermented bean paste: From East and Southeast of Asia.
Gochujang: From korea. It is made with fermented soybeans and rice. Red chili and salt are added
Mianchi: A type of Douchi made with white soybeans
Nattō: From Japan. Made with fermented soybeans
Kinema: Fermented soybean with vegetable ash
Pickled tofu: Preserved tofu made with fermented soybeans, rice wine, salt, vinegar or sesame oil from China.
Soy sauce: A fermented sauce from China. It is made with soybean, cereals, brine, fermented with fungus konji or koji.
Stinky tofu: Fermented tofu with strong odor from china
Tamari: Soy sauce from Japan. Made with fermented soybeans, because of the action of fungi  Koji  or Aspergillus sojae , roasted cereals and brine.
Tauchu: Fermented paste from China. Made with boiled yellow soybeans and flour.
Tauco: Fermented paste from Indonesia. Made with yellow soybeans.
Tianmianjiang: Fermented sauce from China, made with yellow soybeans, wheat flour, salt, sugar and mantou.
Tungrymbai : Fermented soybean product from India.
Tuong: Soybean paste fermented with Koji from Vietnam
Yellow soybean paste: Fermented sauce from China, made with yellow soybeans, wheat flour, salt and water.


More information on soy
This article was endorsed by
Elisenda Carballido
- Dietitian nutritionist. Postgraduate in Phytotherapy and master in Nutrition and Metabolism.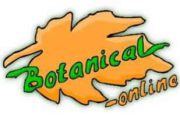 Written by
Editorial
Botanical-online team in charge of content writing