Maca contraindications
CONTRAINDICATIONS OF PERUVIAN MACA
Why is maca used?
Maca is a Peruvian plant used since ancient times as revitalizing and remineralizing to treat anemia, chronic fatigue and increase energy. It also enhances endurance and physical performance of athletes.
Studies have also reported that increases memory and fertility.
Women use maca to treat menstrual problems and menopause symptoms. Maca is also used to prevent osteoporosis, depression, dysfunction and stimulant properties.
*See maca properties in the listing above
What are the main contraindications of Maca?
Maca is a safe supplement for health, so it does not present any serious contraindications for healthy adults.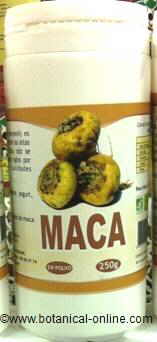 In the photo: supplement of maca
Who should avoid taking Maca?
- Pregnant women and infants: It has not been demonstrated the safety of maca in pregnancy or lactation.
- People with antidepressant medication: Although Maca has been shown effective in improving the side effects of antidepressant medication (SSRIs), it is imperative that a qualified physician supervise the treatment with maca in these people.
- People with autoimmune diseases: Maca can boost the immune system, but people with autoimmune diseases can experience a worsening of their symptoms if they choose maca supplementation. Before taking maca, you should consult your doctor.
Precautions with maca
- Start treatment with 1.5 g. maca daily, divided into 3 doses of 0.5 g., during a period of 30 days.
- In case you want to increase the dose, treatment with 3g daily have proved effective: deliver 3 g. of maca daily in three doses of 1g. If supplementation with 1.5 g. daily is working well, it is not necessary to increase the dose.
Scientific studies show that a daily dose of 1.5 g. is as effective as a treatment with 3g. of maca daily.
- Do not perpetuate maca supplementation for more than 3 months.

More information about maca in the listing above.
Other interesting articles
This material is for informational purposes only. In case of doubt, consult the doctor.
"Botanical" is not responsible for damages caused by self-medication.