Control of proteins, potassium, sodium phosphorus in chronic kidney disease
Control of proteins in chronic renal failure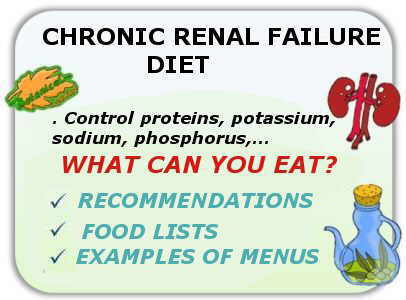 One of the most important changes in the diet for kidney disease is that people suffering from it should decrease practically all rations of protein. That is, eat less meat, fish, eggs, legumes and dairy.
In addition, certain foods with proteins containing too much phosphorus or purines can not be consumed. The following section specifies what amounts and types of protein-rich foods are adequate, and which ones should not be consumed:
* Continue reading: Proteins for chronic kidney failure
Phosphorus control in renal disease
Phosphorus is one of the minerals that must be controlled in the diet for kidney failure, because its excess consumption produces hyperphosphatemia (high phosphorus in the blood), which causes calcification of the arteries, decalcification of the bones, and increases the risk morbidity and mortality from renal disease.
Foods rich in phosphorus are those that contain proteins, therefore, no more recommendations should be made than those mentioned above (control the amount of proteins).
However, recently, new food products give rise to another recommendation in this regard. All soft drinks, cold meats, pastries, toast, breakfast cereals and many ultraprocesses contain phosphorus among their additives (either as a gasifier or as a fortified mineral). In addition, this phosphorus (phosphate additives) has a greater impact on the unwanted hyperphosphatemia.
It is very important to avoid products with phosphates, such as soft drinks, sausages, enriched breakfast cereals and others (read labels)
* More information: How to eliminate dietary phosphorus for kidney failure
How much liquid can you drink in chronic kidney disease?
The amount of water or liquids you can drink should be referred to your doctor. It will mainly depend on the filtration capacity of the kidneys, and whether there is any other pathology such as congestive heart disease or edemas.
We recommend weak mineralization water
Ideally, do not take in more than 1 liter of liquid a day, including in this count the liquid provided by soups and vegetable creams (foods rich in water).
In no case it is recommended to force yourself to drink a lot, either water or other liquids, as it is very harmful to the kidneys and kidney disease (more information).
In case of severe renal insufficiency, the drink should be restricted to the maximum and take into account the liquid or water that is ingested through the food. Then expand this information and other information of interest: What type of drink is more appropriate? How do I know if I'm drinking too much?
* More information: Liquids and beverages in kidney failure
Controlling potassium in chronic kidney disease
Potassium is a mineral that stimulates the kidneys and is harmful to kidney disease. Getting a low intake of potassium is one of the most complicated points of the diet for kidney disease, since many foods are rich in potassium, especially vegetables.
Depending on the degree of the disease, it should be more or less strict in the recommendations. In general, ingestion of 3,000 – 3,500 mg of potassium per day is recommended.
To reduce your dietary intake, it is recommended:
X Avoid the use of herbs, which are very rich in potassium. Idem for infusions of these herbs.
X Avoid foods rich in potassium: such as dried fruits, mushrooms, spinach, chard, legumes, bananas and avocado.
– The most recommended vegetables (little potassium) are: eggplant, zucchini, pepper, cucumber, onion, pear, and apple. Peeling, soaking, boiling and roasting vegetables reduces their potassium content.
– Oil has no potassium, so it is suitable
How to Remove Potassium from Vegetables
In advanced stages of kidney failure, ALL vegetables (including fruits and vegetables) have to be processed to lower their potassium content. To remove potassium from foods should be peeled, soaked, boiled and roasted vegetables (potatoes, fruits, vegetables and tubers).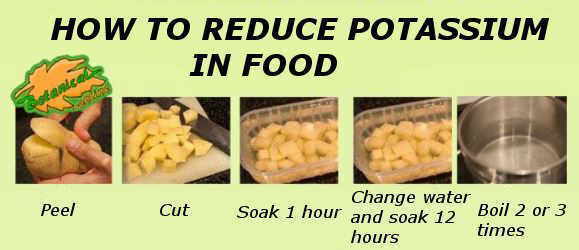 Practical steps to reduce the potassium content of food
* More information: How to eliminate potassium in food
Control of sodium or salt
Sodium is a mineral that makes us retain liquid. It is found mainly in salt. Therefore, in this case the recommendation is based solely on avoiding the use of salt and not consuming foods rich in salt.
The maximum amount of sodium per day is 2,000mg.
It is important to remember that aromatic herbs (high in potassium) can not be used. To flavor, you can macerate the oil with herbs, but do not consume them.
Supplements for chronic kidney failure
There are a number of supplements that may be beneficial for kidney failure. These should be supervised by a physician:
Turmeric (Curcuma longa): Supplements of 2040mg curcuminoids (active ingredient of turmeric). Helps maintain renal function and has antiinflammatory properties. Combine with a pinch of black pepper.
Ginger (Zingiber officinale): Take in food or infusions. Supplements with shoagoles and gingerols (see label). Antiinflammatory and cancer properties.
Lipoic acid: Stimulates the body's natural antioxidants like glutathione. (Supplements of lipoic acid in form R)
Rosemary: For its content in ursolic acid with hepatoprotective properties and against cancer. (Use a pinch of aromatic herbs in food if there is no severe restriction of potassium)
Vitamin Supplements: Due to strong dietary restrictions, patients with CRF may ingest insufficient amounts of vitamins. There are supplements in the market specially designed for patients with chronic renal failure (with sodium, potassium and protein control). These include vitamin C, vitamin D (even if sunbathing), thiamine, riboflavin, pantothenic acid, folic acid (as 5methyltetrahydrofolate), vitamin B12 (in the form of methyl cobalabine) and niacin. Supplements like Nephrovit contain these components, there are also prepared oral supplements that are taken as a smoothie.
* More information: Supplements for chronic kidney failure
Depression and chronic kidney disease
It should be kept in mind that eating is a pleasant social act. People who must follow this type of diet, naturally, may have depression. Despite improving health, there is no doubt the psychosocial impact of all these restrictions on the person and their environment.
For this reason, people with chronic renal insufficiency are encouraged to promote other sources of fun, replacing the "pleasure of eating." For example, pleasant talks, nature walks, sunbathing, activities (cinema, theater, reading, drawing, painting, meditation, etc.)
Recommendations for chronic renal failure
Other important dietary recommendations for severe kidney disease are:
Periodically focus on the correct dietary rules, since, being so strict, it is possible that after a few weeks they will stop following
Facilitate a good diet, providing the right foods in the pantry, and avoid eating unhealthy products in front of the person.
The mealtime should be a pleasant moment of communion between people
Give activities or experiences as gifts (cinema tickets, theater, books,…) instead of not recommended food (chocolates,…)


More information on remedies for kidney failure
This article was endorsed by
Elisenda Carballido
- Dietitian nutritionist. Postgraduate in Phytotherapy and master in Nutrition and Metabolism.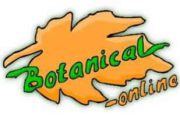 Written by
Editorial
Botanical-online team in charge of content writing