Amount and type of proteins recommended for advanced kidney disease
PROTEINS FOR CHRONIC RENAL INSUFFICIENCY
Control of proteins in chronic renal failure
One of the most important changes in the diet for kidney disease is that people suffering from it should decrease practically all rations of protein. That is, eat less meat, fish, eggs, legumes and dairy.
In addition to protein control, other sources of phosphorus (not just proteins), such as carbonate beverages and other phosphate additives, should be avoided. The goal is to decrease metabolic acidosis and slow kidney damage.
If there is no potassium restriction (specifically prescribed by your doctor), a diet rich in vegetables and legumes is recommended.
The following section specifies what amounts and types of protein-rich foods are adequate, and which ones should not be consumed.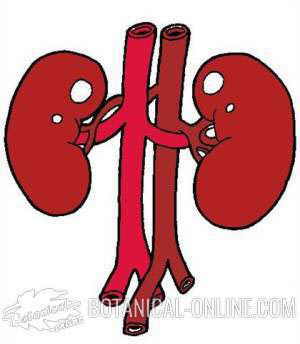 Drawing of kidneys, courtesy of
How much protein should be consumed?
The recommended protein intake ranges from 0.6 to 0.8 g of protein per kg of body weight per day (g protein / kg / day). Following the previous case, in a man weighing 87 kg, the dietary pattern will be between 52 and up to a maximum of 70 g of protein per day.
Therefore, the percentage of daily energy from proteins will be close to 10%, instead of the 15% that is recommended in a standard diet. The oil intake should be slightly increased to compensate.
Your doctor is the right person to tell you how much protein to consume.
Following it is shown how to translate the "grams of protein" into "amount of food"
Examples of already-calculated diets are proposed below, to make it easier to carry out these recommendations.
Protein-rich food rations
Below, there is a table with the protein rations and the appropriate protein rich foods. Each diet should be adjusted according to the characteristics of the person and the stage of his illness (consult with the practitioner).
Recommended protein food and ration (weight in grams): RATION IS VERY IMPORTANT
Grams of protein per RATION

Veal or red meat

Not suitable for kidney disease

Burgers

Not suitable for kidney disease

Slices of turkey or other sausages

Not suitable for kidney disease

Almonds or other nuts

Not suitable for kidney disease

Seafood

Not suitable for kidney disease

Cured cheese (20g)

7

1 yogurt (125ml), you can add honey, sugar and / or some oil or butter

4

Half a glass of semi-skimmed milk (100 ml)

4

Fresh cheese or cottage cheese (35g)

7

Half a glass of soy milk, free of phosphate in its additives (100ml)

4

2 toasted bread without salt (bread carries phosphates, do not consume too much)

2

Lentils or chickpeas (35g), it is recommended to complete

The dish with rice. Do not cook with baking soda or salt

6

Boiled salmon (40g)

10

Cream cheese to spread on the bread (20 g)

2

Wheat paste(50g)

7

White rice (100g)

3

Egg (1 unit)

8

Chicken or white meat (60g), or homemade burgers (without salt,

or additives of any kind), you can put flour

10

White fish (70g)

10
Can you take a vegetarian diet if there is chronic kidney failure?
A vegetarian diet is beneficial for patients with kidney failure. In fact, the National Kidney Foundation recommends a vegetarian diet, or mostly vegetarian, for patients with kidney disease. The main advantages of this type of diet are: decrease of cardiovascular risk, decrease of proteinuria, and decrease of kidney damage.
Foods rich in plant proteins are also very rich in potassium. You should decrease your intake if you must carry a diet low in potassium. However, there is no reason to restrict vegetable consumption if the nephrologist does not indicate potassium control.
Example of protein intake in a kidney patient
The following is an example of a healthy diet for kidney failure, with the calculation of daily protein that is performed:
Example of a diet for chronic renal failure, with protein calculation:
Breakfast:
– 2 toast with cream cheese greased and oil = 4 g of protein
Mid-morning:
– Apple * baked or Pear * boiled (without the liquid), or Apple * small, grated and with previous soaking, with 1c. Of honey or applesauce * = It does not carry proteins (but the fruit must be controlled by potassium)
Lunch:
– 50g macaroni = 7gr of protein
– 60 g chicken = 10 g protein
– 1 yogurt with honey = 5 g of protein
Snack:
– Two bread toast with oil and 35g of fresh cheese = 10 gr of protein; Or cottage cheese (60g) with honey = 10 g of protein
Dinner:
– 100 g of white rice = 3 g of protein
– 70 g of rape = 10 g of protein
– 1 yogurt with honey = 5 g of protein
Total protein per day: 54 grams of protein
The daily protein intake should be adjusted according to the person's weight and kidney function.
Consult your doctor about how much protein you should eat and follow a proper diet with a dietitian nutritionist
DIET ANNOTATIONS EXAMPLE:
* = Vegetable foods (fruits, vegetables) should always be pre-soaked: peel, chop and soak at least 12 hours to remove the potassium they contain
– Do not use herbs directly because they contain a lot of potassium, you can scent the oil with macerations (herbal oil)
– Do not use salt or baking soda in cooking (such as it is generally advised when cooking legumes)
Dairy in kidney disease
Dairy products are nutritious foods that can be consumed, but are not highly recommended because of their phosphorus and protein content. Therefore, it must be taken into account that its consumption should be moderate, respecting the rations mentioned.
How is a certain food considered to be adequate or unsuitable for CRI?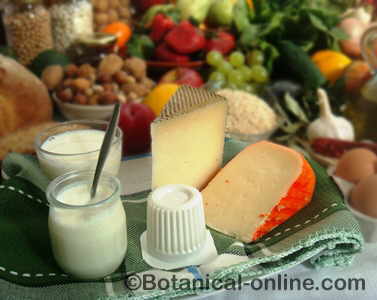 Dairy should be consumed very sparingly
Some readers may wonder why some foods from the above list are appropriate, and why others are not. This section solves this doubt.
Proteins are essential nutrients and vitally important to the body, which you have to ingest through food. However, not all protein-rich foods are just as suitable for kidney disease.
In chronic renal failure, it is desired that protein foods carry the least possible renal load during their metabolism. For that, in the past, its purine or urate content was taken into account. Currently, the criterion to follow is the so-called phosphate / protein ratio of food.
The phosphate / protein ratio of food is a dietary criterion supported by scientific evidence and recommended in the National Kidney Foundation Kidney Disease Outcomes Quality Initiative (NKF KDOQI) guidelines for good dietary phosphorus control.
In chronic kidney disease, the adequacy or non-adequacy of a type of protein food depends, basically, on the ratio of phosphate proteins.
Relationship between proteins and phosphorus
Phosphorus is a mineral found primarily as part of proteins. It is important to control phosphorus because its excess produces hyperphosphatemia (abnormally high levels of phosphate in the blood), which, in turn, causes calcification of the arteries and increases the cardiovascular risk of the person with CRF.
* More information: How to eliminate phosphorus in diet for IRC
Doubts about chronic kidney disease
How much fluid can the person with CRF drink? How should potassium be removed? What foods have more potassium?…
Botanical online has developed this detailed guide which explains in detail all the information related to feeding in the chronic renal patient, in order to resolve doubts and facilitate access to a proper diet.
It is recommended that you consult with your doctor any dietary changes that will be made:
*More information:
– List of good and bad food for chronic kidney disease
– Proteins in chronic kidney disease
– How much can you drink in chronic kidney failure?
– How to remove potassium from food
– Supplements for chronic kidney failure


More information on kidney disease diet guide an other kidney diseases.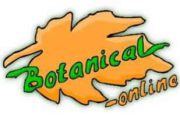 Written by
Editorial
Botanical-online team in charge of content writing