Home remedies for prostate cancer
PROSTATE CANCER
What is good to treat prostate cancer?
Natural remedies for prostate cancer consist of supplements and plants that can help improve the effectiveness of conventional medical treatment.
These treatments are not intended to replace medical treatment. People suffering from prostate cancer must not take supplements without the CONSENT of the physician.
Vitamins, minerals and other supplements for prostate cancer
– Vitamin E: Among other properties, this vitamin offers anti-inflammatory benefits very suitable to prevent inflammation of the prostate. It also has antitumor properties capable of inhibiting the growth of cancer cells, especially breast, colon and prostate cancers.
The use of foods rich in vitamin E, such as extra virgin olive oil, can help complete the necessary daily intake (The adult dose is 400 IU daily)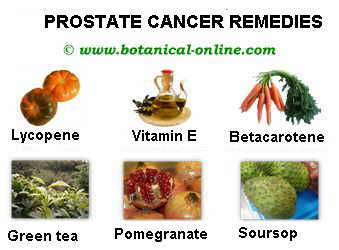 Some remedies for prostate cancer
– Omega 3: Epidemiological studies have shown that men whose diet is rich in omega 3 fatty acids have a lower incidence of prostate cancer. These fats can be beneficial, although in moderate doses, because it has also been observed that diets rich in fats (including healthy fats and bad fats) are contraindicated for prostate cancer.
Omega-3 can be obtained from extra virgin olive oil (which in turn is rich in vitamin E), walnuts or flaxseed.
– Lycopene: This flavonoid, abundant in deep red color vegetables, has properties against prostate cancer by preventing the growth of tumor cells and because it is also able to prevent benign prostatic hyperplasia.
Due to its properties, this flavonoid is one of the most appropriate, both to prevent and to help treat prostate problems. One should increase the amount of lycopene in food by cooking it, (it is more abundant in cooked tomato juice and roasted peppers that when they are eaten raw). There are supplements with high amounts of this component.
– Beta-carotene: It is a type of carotenoid , such as lycopene. It has antioxidant properties that reduces the aggressiveness of prostate cancer.
One study has shown that a combination of moderate amounts of beta-carotene and lycopene is more beneficial against prostate cancer than taking high amounts of lycopene.
If you combine a diet rich in carotenoid lycopene, it will be beneficial for prostate cancer and to improve the overall health of the body. Foods rich in lycopene include mango, carrots papaya, among others.
– Selenium: This mineral is part of the enzymes that work in different metabolic pathways, including selenium – proteins that are involved in the functioning of the prostate. Its role as an antioxidant is to prevent damage to genetic material by means of stimulating natural death (apoptosis) of cancer cells. Epidemiological studies have shown that it reduces mortality from prostate cancer.
The main sources of dietary selenium are cereals, meat, fish, dairy products and eggs. Its efficiency improves in combination with vitamin E supplements: Daily doses of selenium greater than 200 mcg are recommended .
– Vitamin D: It has got quimiopreventor effect and some hypotheses suggest that vitamin D deficiency may be a risk factor for prostate cancer. It has been observed that mortality from this cancer is higher in countries with low sun exposure, the main source of this vitamin (also known as the sunshine vitamin). Daily sunbathing for 15 minutes can help increase our reserves of vitamin D.
– Vitamin C:With antioxidant and anticancer properties, it is necessary to improve the overall health of the body and can help against prostate cancer. You can get it from citrus, raw peppers, radishes, salad, cabbage, or supplementation.
– Green Tea: Its use is associated with a reduced risk of prostate cancer. Green tea is rich in one type of catechins with more powerful antioxidant effects, epigallocatechin Galata. You must choose a good quality green tea, rich in this component.
Food against prostate cancer
– Pomegranate: According to a scientific study published in the Journal of Medicinal Food (Fall 2004), Pomegranate extract has a protective role against pancreatic cancer by inducing apoptosis (natural death) of cancer cells.
– Red peppers: They are very high in capsaicin, a flavonoid with antioxidant and anticancer properties for prostate by means of stimulating apoptosis or natural death of cancer cells .
– Soybeans: They might have a beneficial effect due to its isoflavones (genistein and daidzein), which slow tumor growth and reduce hormonal androgen level, promoters of prostate cancer.
– Noni: This fruit, with potent properties against different types of cancer, may also help fight prostate cancer by having estrogenic effect.
– Guanabana or soursop : It has anti -cancer properties because it contains annonaceous acetogenins, which could also have a role against prostate cancer, according to a study.
– Thunder God Vine (Tripterygium wilfordii): It is a plant native to Asia that is used in traditional Chinese medicine to treat inflammatory diseases such as lupus, but it is little known in the West. Although still under study, it has been found that its extract has benefits against prostate cancer.


More information on prostate cancer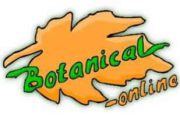 Written by
Editorial
Botanical-online team in charge of content writing