Potato family (Solanaceae)
Potato family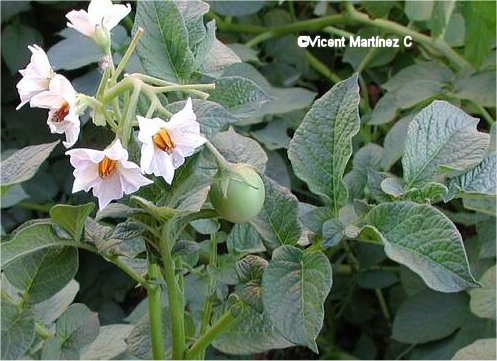 Potato (Solanum tuberosum L) is a Solanaceae that produces potatoes
The Potato family (Nightshade family) - Solanaceae - comprises about 2500 species of plants spread all over the world but mainly in tropical America.
They are herbs, trees and shrubs.
Many of these species are very important for mankind because of their value as food (Potatoes, tomatoes, peppers, etc.,), because of their alkaloid properties(tobacco, deadly nightshade, Thorn-apple, henbane, mandrake, etc.) and as garden plants.
Datura meteloides

Leaves (1): alternate, undivided or slightly lobed, without stipules.

Stems (2): upright or low-growing, many climbing.

Flowers:

bearing radial symmetry, generally bell-shaped or cup- shaped; solitary or in cymes.

Calyx (3): 5 sepals

Corolla (4): 5 petals.

Stamens: 5

Ovary: superior with 2 carpels.

Capsule of "Datura stramonium L."

Style: 1

Fruit (5): capsule or berry.
Genera
The most important ones are the following:
Other interesting articles
This material is for informational purposes only. In case of doubt, consult the doctor.
"Botanical" is not responsible for damages caused by self-medication.