What dose or amount of B12 should be taken?
HOW TO SUPPLEMENT VITAMIN B12
Amount of vitamin B12 for vegetarians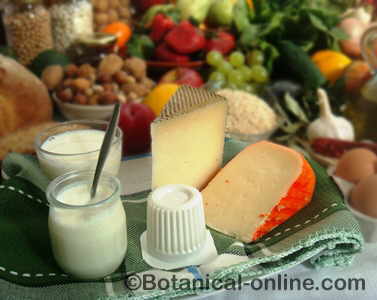 Although dairy products are occasionally eaten, sometimes insufficient amounts of vitamin B12
Vitamin B12 or cobalamin should be supplemented in vegetarian diets. Most of the time, this type of diet does not provide the daily amount of vitamin B12 required in the body, even if eggs, milk or dairy products are consumed occasionally.
How are B12 supplements taken?
Since in vegetarians it is a supplement that has to be taken for life, there are comfortable and economical options.
The vitamin B12 supplementation schedule does not have to be daily.
Food supplement brands specializing in vegetarians offer doses of 2.5mcg, 100mcg, 400 and up to 1,000 mcg. off vitamin B12.
The recommended way to take B12 supplements is as follows:
SUPPLEMENTATION GUIDELINES
For healthy adults there are three options to supplement B12:
1) Take 2-3 supplements daily: 2-3 supplements of 2.5mcg of vitamin B12 in the main meals. For this posology you can buy a supplement in drops or capsules. In drops: 1 pipette equals 2.5mcg of vitamin B12.
2) Take 1 supplement per day: 1 capsule of 100 mcg of vitamin B12 daily.
3) Take supplements weekly: 2.000 mcg once a week, or take 1.000 mcg 2 days a week. (ATTENTION: This type of supplementation is contraindicated in pregnant women and children, except for medical prescription)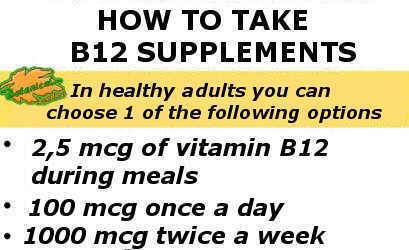 Scheme of the recommended dose of vitamin B12 in supplements, for healthy adults.
In addition to supplements, it is recommended to take foods enriched in vitamin B12 (such as vegetable drinks with calcium, vitamin D and B12) daily. This provides better absorption. Being a water-soluble vitamin, it does not accumulate or is toxic.
Can you take vitamin B12 supplements along with meals or separate?
Vitamin B12 can be taken along with meals, as long as they are not overly abundant. For example, at breakfast or at dinner.
– Alcohol lowers B vitamins, including vitamin B12. Any type of alcoholic beverage should be avoided.
– If you take medicines, consult your doctor
– Vitamin B12 should not be taken with vitamin C supplements because too much vitamin C could reduce the absorption of vitamin B12. However, the amount provided by fruits would not be any problem.
Vitamin B12 in special situations of anemia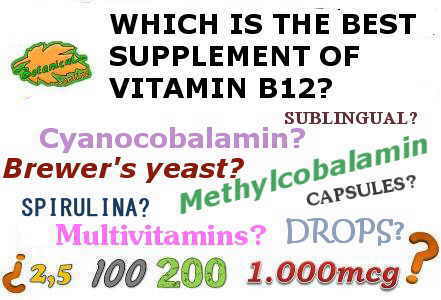 Types of B12 supplements. The are safe to take and avoid health complications
In case of deficits or anemia diagnosed, daily doses of supplement should be prescribed by a physician. In some cases the recommendation can amount to taking 1,000 – 2,000mcg daily. (Consult a physician)
How to take B12 in pregnancy and children?
In the case of infants, children and special situations (pregnancy, breastfeeding, illness), a doctor and dietitian should be referred to the appropriate recommendation and to ensure that there are no other possible deficits in addition to vitamin B12.
In pregnant women it is recommended not to consume very high amounts of B12, like the supplements of 1.000mcg of vitamin B12.
The most appropriate in pregnancy and lactation are the supplements of 10, 100 or up to 200 mcg of vitamin B12 daily.
Can vitamin B12 supplements be toxic?
Being a water-soluble vitamin, they do not accumulate and can be removed by the urine. In prescribed doses, they are safe and non-toxic. The IOM (Institute of Medicine) has not set a toxic dose of this vitamin given its safety even at high doses such as supplementation.
Recommended amount of cobalamin (vitamin B12) in mcg (micrograms)

Less than 6 months

0,3

From 6 months to 1 year

0,5

From 1 to 3 years

0,7

4 to 6 years

1

7 to 10 years

1,4

More than 10 years

2

Pregnant women

2,2

Breastfeeding women

2,6

Patients with pernicious anemia

1 dose of 1000 mcg daily as a sublingual tablet.

Crohn's disease

1 dose of 1000 mcg daily as a sublingual tablet.

Tinnitus

1 dose of 1000 mcg daily as a sublingual tablet.

Male infertility

1 dose of 1000 mcg daily as a sublingual tablet.

Multiple sclerosis

1 dose of 1000 mcg daily as a sublingual tablet.

Fibromyalgia and Chronic Fatigue Syndrome

1 dose of 1000 mcg three times a week in the form of a sublingual tablet

Nervous disorders of the elderly


1 dose of 100 to 500 mcg daily as a sublingual tablet

Allergy to food

1 dose of 2000 mcg daily as a sublingual pill
Where do you get vitamin B12 supplements?
Vitamin B12 supplements are suitable for vegans. They are not of animal origin nor has any living being killed to make them, since they are obtained from bacterial fermentations.
They can be obtained from pharmacies, health food stores and natural products stores
– Symptoms of vitamin B12 Deficiency
– Diagnostic of vitamin B12 deficiency
– Vitamin B12 supplements for vegetarians
– Deficiency of vitamin b12 in babies or vegetarian children
– Vitamin B12 during pregnancy
– Does the body store vitamin b12?


More information on vitamin b12.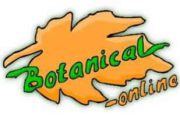 Written by
Editorial
Botanical-online team in charge of content writing