Nutritional benefits of dry apricots
DRIED APRICOTS OR "OREJONES"
What are the dried apricots?
The dried fruit called "orejones" in Spanish are dried peaches or dried apricots.
These fruits are dehydrated by sun-drying technique to exploit their properties in food off-season periods.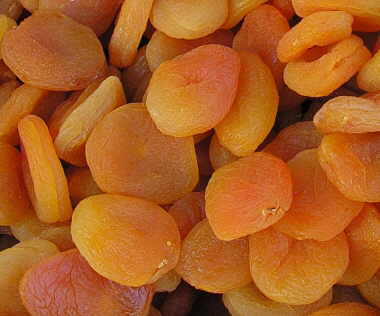 Dried apricots
How to make homemade dried apricots
We can get homemade dried apricots placing them on a few cane beds in the sun on days without moisture.
When they are dry, they are stored in sealed and dry containers.
What is the difference between "orejones" and fresh apricots?
The drying process involves a loss of weight. Usually we usually get a fifth of the initial fruit weight. What actually occurred is a waste of water.
This loss creates a dried fruit that prevents organisms can thrive in it. In this way you can keep for a long time without rotting.
Advantages of dried apricots
The drying process involves the loss of water. For example, in the case of dried apricots while the fresh fruit has almost 90% water, the dry has less than 8%. Moreover, this process involves increasing number of other nutrients as shown in the table below.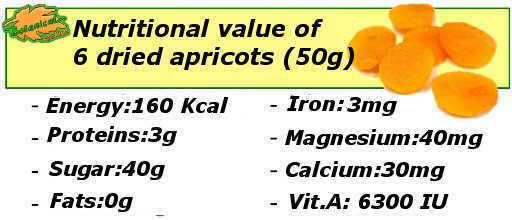 Summary sheet of the nutritional properties of dried apricots. 6 dried apricots equals 50 grams (1 serving).
Some additives can cause asthma attacks
It is best to dry the apricots at home than buying industrially dried apricots because in the drying process, components are added to the latter to improve its appearance.
For example, to avoid a blackened aspect it's very common to add sulfur dioxide (E220). The additive can improve the appearance of them but it's detrimental to health and it is often responsible for asthma attacks. Asthmatics should avoid eating dried apricots when they are not sure how they were dried.
A good way to know which dried apricots have been treated with sulfur is to notice the ones with a very vivid and bright color.
Properties of dried apricots
We can say that the dried apricots ("orejones") offer a higher concentration of vitamins, minerals and nutrients than regular dried fruits. In the case of apricots, as shown in the table below, there is a dramatic increase in vitamins and minerals.
Especially remarkable is the increase of vitamin A as beta carotene.
We can say that the properties already mentioned for tender apricots are increased in the dried apricots (See the link "tender apricots" in the listing below).
Surely a handful of dried apricots can be an alternative to swallowing pills of vitamin A or beta carotene.
Equally interesting is its iron content, which must be used by those who have pale skin because of their low level of this mineral.
The apricots are a good medicine for the treatment and prevention of anemia.
Dried apricots contain lot of potassium
Another amazing feature is their content of potassium. This is especially interesting for people who have problems with hypertension or who have circulatory problems because of the influence of sodium.
This richness in potassium will thwart the sodium, will facilitate the expulsion of fluid from the body and improve circulation.
A fruit with a lot of energy
Dried apricots are rich in carbohydrates. This gives them great power energy, capable of providing a lot of calories with very little weight. In fact, for this reason, it is one of the fruits used by athletes and hikers.
They have been included in the diet of astronauts for this reason and also because of its richness in vitamins and minerals.
The dried apricots are a good resource for eating at that time between meals when you are hungry and want to discard other foods that make you fat without providing you with so many vitamins and minerals as dried apricots do.
Ideal for children as a food source to avoid the "goodies" or for adults who do not want to resort to sweets. Be cautious if overweight or if you want to lose weight since the energetic power of the dried apricots is very high.
A tonic for the nervous system
The high content of niacin or vitamin B3 of the dried apricots determines that this fruit may be considered an "authentic natural medicine" for the nervous system. Small deficiencies of niacin can manifest as nervous system disorders such as nervousness, anxiety, depression, insomnia, irritability and, in more serious cases, in the form of dementia.
The lack of this vitamin can cause weakness, general discomfort, lack of interest and general indiscriminate pain.
Additives in the dried apricots: The best ones, dried at home
It is better to dry the dried apricots at home than to buy industrially dried apricots, since, in the drying process, the latter contain added components to improve their appearance.
Thus, for example, in order to prevent them from blackening, the use of additives is very common. These preservatives that are added are sulfites.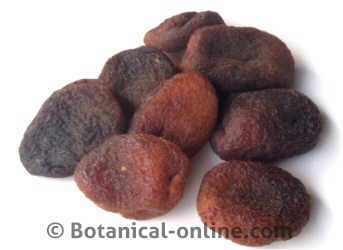 Dried apricots without sulfites. They do not have the orange color so attractive.
Sulfites are additives numbered in Europe from the number E220 to E228, such as sulfur dioxide (E220). These additives help to preserve the bright orange color of the dried apricots and to prevent their deterioration due to the attack of microorganisms.
These additives improve the appearance and conservation of the food. Sulfites have also occasionally been linked to adverse reactions such as vomiting, abdominal discomfort, headache and nausea.
It can be harmful to health and in sensitive people is usually responsible for asthma attacks in people suffering from this disease. Asthmatics will avoid eating dried apricots when they are not sure how they dried.
In addition, it has been observed that sulphite additives are related to migraine due to DAO deficit.
A good way to know that the apricots of the market have been treated with sulfur is to realize that they have a very bright and lively color. If they have a bright orange appearance it is recommended to avoid their consumption in asthmatics or sensitive people.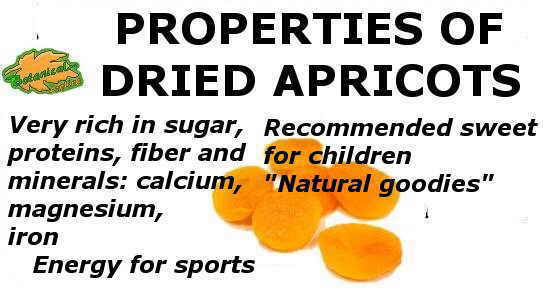 Lámina resumen de las propiedades de los orejones. Pueden ser una golosina "natural" perfecta para niños.
Nutritional value of dried apricots
In short, as mentioned, "orejones" are dried apricots or dehydrated peaches. They contain many sugars, a moderate amount of protein and are very rich in minerals:
Dried apricots contain mainly many sugars, which provide energy. But apricots do not contain fats and, therefore, they do not constitute an energy contribution as important as artificial snacks with added fat (chocolates, pastries, …). This is because fat is the nutrient with the highest amount of calories per gram.
The protein content of dried apricots is moderate (5g per 100g), however, although it is a considerable contribution taking into account that of other fruits, it can not be considered a food rich in this nutrient and should be complemented with other foods rich in proteins
Composition per 100 g of apricots
Composition per 100 g of apricots.

Nutrients
Fresh /Dehydrated
Water
86,35 g / 7,5 g
Energy
48 kcal / 320 kcal
Fat
0,39 g / 0,62 g
Protein
1,40 g / 4,90 g
Carbohydrates
11,12 g / 82,89 g
Fiber
2,4 g / —-
Potassium
296 mg / 1.850 mg
Phosphorus
19 mg / 157 mg
Iron
0,54 mg / 6,31 mg
Sodium
1 mg / 13 mg
Magnesium
8 mg / 63 mg
Calcium
14 mg / 61 mg
Copper
0,089 mg / 0,57 mg
Zinc
0,26 mg / 1 mg
Selenium
0,4 mcg / —-
Vitamin C
10 mg / 9,5 mg
Vitamin A
2612 UI / 12 669 UI
Vitamin B1 (thiamine)
0,03 mg / 0,043 mg
Vitamin B2 (Riboflavin)
0,890 mg / 0,148 mg
Vitamin E
0,6 mg / —-
Niacin
0,6 mg / 3,58 mg


More information on apricots.
Related information: The apricot in the kitchen.
This article was endorsed by
Elisenda Carballido
- Dietitian nutritionist. Postgraduate in Phytotherapy and master in Nutrition and Metabolism.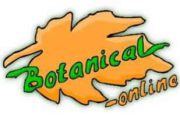 Written by
Editorial
Botanical-online team in charge of content writing