How to make panellets
What does "panellet" mean?
The word "panellet" is Catalan. It means "little bread". It refers to a type of small cake that it is traditionally prepared for All Saints Holiday in Catalonia, Valencia and the Balearic Islands.
Made with a base of almonds, sugar and egg (Marzipan) they are a very tasty and natural food, ideal to eat on cold days.
Today, they can be done in different forms, but the the base ball from which panellets are made remains the main form.
The external decoration is typically prepared with pine nuts, although you can find many varieties.
"PANELLETS" RECIPE
How to make "panellets"?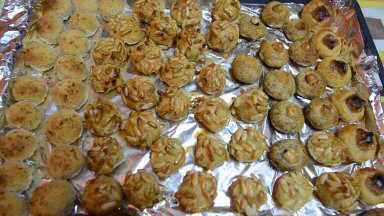 Baked panellets
Ingredients for the base mass of panellets
Ingredients for decorating panellets
It depends on the type of "panellets" you want to make, but usually pine nuts and coconut ones are always the most used because they are the most typical. Among the main we have:
Panellets base balls dough preparation
Cook the potatoes in the oven for half an hour. Once cooked, with a spoon, extract the meat and discarded the rind. Place the potato pulp into a bowl.
Add the sugar and the grated rind of a lemon. Stir very well.
Add the grated almonds and keep them stirring until they are well blended.
Knead the dough with your hands for consistency and uniformity.
Once well mixed, paste basis is ready for various "panellets". In all cases, the most typical is to take some dough, place it between your hands and give it a pellet form. This will be decorated with different ingredients.
Currently, "panellets" are performed giving them many different aspects, but the most common ones are those that are rounded.
How to make quince "panellets"?
Take a ball of dough base.
Sink the top with your finger and add a slice of quince
How to make pine nuts panellets?
Crack an egg in a bowl and beat.
Place pine nuts in a bowl.
Take a ball of dough base and rub it on beaten egg.
Then, swipe it on the pine nuts in order for them to stick on the ball. Use your fingers if necessary.
How to make coconut "panellets"?
First of all you should mix the grated coconut with the mass base in the same quantity we want to use.
Coco volume should be approximately the amount of mass, although the weight will not be the same. You should save some grated coconut to decorate the outside.
Mix the coconut with the paste and knead them well until a uniform dough is well done.
Later, you must do some mass balls, pass them on the egg, and on the grated coconut for coconut scratches to get stuck on the outside of the ball.
How to make chocolate "panellets"?
Grate black chocolate or use chocolate noodles. Reserve some grated chocolate without being cut to pieces.
Add a bit of chocolate to the mass basis we want to use.
Chocolate is mixed with the dough, knead all well until you form a smooth paste.
Make some balls with the dough. At the top of each ball, sink a piece of black chocolate without scratching.
How to make "panellets" of Nescafe coffee or hazelnuts?
Add a bit of Nescafe coffee to the pasta.
Stir and knead well until it forms a smooth paste.
Form some small balls. In each ball, sink on top a hazelnut.
What to do once we have all the "panellets" prepared?
As we are doing the "panellets" place them well distributed a baking sheet. An aluminum foil should be placed on tray to place them on it, so that they do not get in contact with the tray.
Once well distributed on the trace, use a basting brush to coat each "panellet" with a layer of beaten egg except the coconut ones,.This process gives them more luster and presence to the "panellet" when baked. Coconut panellets are not coated with beaten egg in order not to clean the grated coconut on top of them.
Once all the "panellets" coated with egg, they should b introduced into a preheated oven at 225 º C. Cooking times takes about 10 minutes.
Once boiled, allow them to to cool and separate them from the tray for placement in a box or other container.
How to serve?
They can be served as a dessert or as a snack at mid-morning or mid-afternoon. It is a type of sweet that holds very well for a few days.
* Related information: Mediterranean diet characteristics.


More information on Mediterranean diet.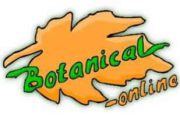 Written by
Editorial
Botanical-online team in charge of content writing