YUCCA HEALING PROPERTIES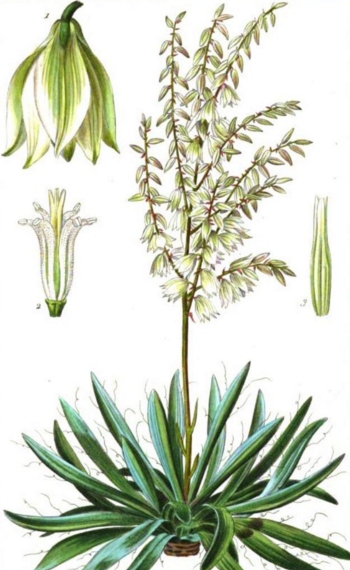 Common yucca (Yucca filamentosa)
Common English name: Yucca, Adam's needle, Spoonleaf yucca, filament yucca (not ro be confused with cassava – Manihot esculenta)
– Spanish: yuca
– Galician: Iuca
– Portuguese: Yuca
– Euskara: Juca
– Catalan: Yuca, yuca filamentosa
– French: Yucca, Yucca filamenteux
. Italian: Yucca, Yucca filamentosa
– German: Palmliliem, Fädige Palmlilie
– Danish: Palmelilje,Trævlet Palmelilje
– Norwegian: Palmlilja, Fiberpalmlilja
– Polish: Jukka, Jukka karolińska
– Romanian: Yucca
– Turkish: Yuka
Scientific name : Yucca filamentosa
Family. Asparagaceae
Habitat: It grows in dry, sandy soil of North America and Central America. Rocks on the edge of roads and sparse woods. It needs a warm climate although it is the most resistant to frost within all yuccas.
Description of yucca
Perennial plant of the Asparagaceae family. Lanceolate leaves gathered in a basal rosette, bluish green. Equipped with long filaments which are those that give it its scientific name of species Filamentosa. They can reach up to 1 m in length and they fall as the plant ages.
Within this species there are gardening variegated forms that present the edges of the leaves golden color
Pale-yellow or white flowers, globose, up to 5 cm in diameter, gathered in panicles that can reach 2 m high.
It blooms in summer.
Traditional use of yucca
Yucca has traditionally been used as one of the main resources for the native Indians of southwestern United States and northern Mexico. Since ancient times, before the arrival of the Spanish colonizers, they used the juice of its roots and stems as a natural laxative and a remedy to cleanse the body or to combat pain.
Through its external use, the decoction or maceration of the roots and stems are used as a liniment to relieve joint pain, as a remedy to cure or disinfect wounds or shampoo to prevent dandruff and hair loss.
In the latter case, for example, Indians used to marinate the roots of cassava for two or three days in water. This drew their wealth in saponins. Subsequently, they washed their head with water resulting from this maceration and rubbed their scalp with duck fat.)
With the leaves, they elaborated baskets or ropes, made painting with flowers
With the stems, they built rafts and used their fruits and seeds as food.
Many Indians today still use remedies made from this plant for which they feel a great devotion and admiration. For example, the leaf fibers are profited to make a floss to clean their teeth.
MEDICINAL PROPERTIES OF YUCCA EXTRACTS
REMEDIES WITH YUCCA PLANT
Yucca plant, an excellent cleanser
Although it can be taken as herbal tea, at present, the main medicinal application of yucca plant, is the development of a number of medicinal extracts to profit its wealth in neutral steroid saponins group.
These saponins have stimulating anti-inflammatory, expectorant, hemolytic and immune effects.
The main preparations are made in capsule form usually about 500 mg of content and should be taken according to the patient's leaflet. These capsules are mainly used for the following purposes:
Internal use remedies with yucca plant
Yucca for arthritis
Saponins, besides being able to neutralize the absorption of toxins in the intestine, exert a purifying function to "liberate" the villi in the intestine of all toxic particles that could be there deposited, which can be used as a resource to improve or prevent degenerative or metabolic diseases in which the body clearance as a curative or preventive method is very important.
In this sense, this can be used with rheumatoid arthritis, gout or fibromyalgia.
The cleansing and anti-inflammatory properties of yucca are able to reduce the inflammation that occurs in both disease and in any type of arthritis. (The usual dose for the treatment is one or two capsules or tablets daily)
Yucca for cholesterol
– Circulation: The use of the same preparation can improve circulation. The positive effects of this plant in this area are mainly due to flavonoid resveratrol that decreases platelet aggregation, which allows blood flow much more fluidly, avoiding the possible formation of causing thrombi vascular accidents such as atherosclerosis or angina pectoris.
– Cholesterol: The same previous treatment can be used even lower the cholesterol level. It has been shown that resveratrol is one of the most suitable for the removal of cholesterol.
Is yucca good for cancer?
The ability of yucca extract to "cleanse" the body and increase the defensive system has recently led some US universities to investigate its use in reducing pain in cancer diseases.
It is also been studying the possibility of saponins contained in yucca to help prevent the development of cancerous tumors.
Other internal medicinal uses of yucca
– Colitis: Saponins exert astringent function, making them suitable for treatment of intestinal diseases where the presence of a too high liquid level exists, such as colitis. .
– Allergy: Some studies have linked the use of saponins of yucca with a decrease of allergic processes.
External preparations with yucca
– Pain: In external use, yucca exerts its balsamic and anti-inflammatory power in the treatment of pain. It can be applied as a massage on the affected area for various reasons such as arthritis, bruises, sprains, joint pain, etc.
– Injuries: Applied on wounds, yucca protects against infection and help healing.
Yucca dosage
– Yucca extracts: Capsules or tablets of 500 mg. Take from 2 to 4 capsules a day.
– Yucca tea bags: From 3 to 5 cups a day.
OTHER USES OF YUCCA
Yucca for animal feed
Studies in American universities have shown that the addition of yucca extract to food animals in an usual ratio of 60 to 70 ppm can improve their health.
Steroid saponins have a cleansing power, so they are able to eliminate many harmful components. Besides, their stimulating action increases animal immune system which helps to prevent the occurrence of some diseases.
For example, it has been found that feed containing saponins of yucca increases the weight of pigs faster than those free feed of this component. It has also been proved that ammonium production was lower in chickens fed with Yucca schidigera extract in proportions of 130 parts per million allowing the facilities suffer less the negative consequences of the action of ammonia.
Turkeys and chickens fed with products containing yucca managed to increase their weight faster and had lower indices of salmonellosis.
It's no wonder that feed of dogs and cats may contain yucca extracts. It seems that the addition of these components, besides improving their health, significantly reduces the odor in bowel habits.
The water obtained by boiling the roots, besides being useful to cure skin diseases, as we have seen above, is suitable for frying and makes a good replacement of the egg.
Yucca in the food industry
The food industry uses yucca in some of its products. Their ability to produce foam is used as a foaming making beer.
Contraindications and toxicity of yucca
No cases of poisoning or toxicity have been detected in the use of this plant in therapeutic doses, although it can cause diarrhea or vomiting in some patients.
Similarly, in some sensitive individuals, contact with the plant can trigger skin allergy.
Prolonged use causes inhibition in the absorption of fat-soluble vitamins, so it is not recommended to take preparations with this plant beyond three months.
Since it is a plant little studied, it is recommended not to use in young children, pregnant or nursing women. Not also to be used with seriously ill heart or kidneys.


More information on yucca.
This article was endorsed by
Elisenda Carballido
- Dietitian nutritionist. Postgraduate in Phytotherapy and master in Nutrition and Metabolism.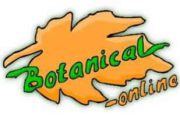 Written by
Editorial
Botanical-online team in charge of content writing