(Ricinus communis)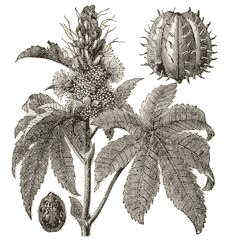 Ricinus communis L.
Characteristics of castor oil plant
Scientific noun: Ricinus communis L.
Family: Spurge family – Euphorbiaceae –
Habitat: Native from Central Africa, it can be found as an ornamental plant, in all regions of tropical and subtropical zone. Also cultivated for the production of industrial oils in several countries of the world, either Europe or Asia and Africa, specially in India and Brazil. It was used as a long-term medicinal plant during in the past.
Components: Ricin (protein)
Active parts
The whole plant, specially the seeds.
Uses of Castor oil
As a medicinal plant in homemade remedies, it was used internally as a laxative or purgative (In greater doses) or a a vermifuge (To expel intestinal worms) Externally, the oil being extracted by pressing the seeds or by means of solvents, can be used for skin ointments (healing of wounds, pustules, pimples, brittle nails or haemorrhoids)
Historically, it was used for lighting by means of torches and candles. Nowadays, its seed oil is being used as a lubricant and in the perfume, soap, fungicide, printing, plastic or textile industry.
Being such a toxic product homemade oil remedies should not be used!!
Toxicity
Extreme. The ingestion of 10 seeds may do some adult to death. In children the deadly dose may be of 2 or 3 seeds.
Effects of Castor oil
Symptoms
Vomiting, cardiac arrhythmia, difficult breathing, convulsions and death.
Treatment
Gastric lavage, artificial respiration.


Gardening


More information about natural medicine.
This article was endorsed by
Vicente Martínez Centelles
- Founder of the web and director. Teacher of natural sciences, expert in plants, natural remedies and botanical photography.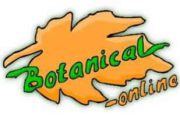 Written by
Editorial
Botanical-online team in charge of content writing