What is castor oil used for?
MEDICINAL PROPERTIES OF CASTOR OIL
Castor oil as a purgative and laxative
Ricinoleic acid from castor oil, has a stimulating effect varying depending on the dose to be ingested, that is, it is used in some drugs for constipation.
Considering this property, castor oil can be used as a purgative or as a laxative. (More information)
Castor oil for skin care
In external use, for its moisturizing effect, as with other vegetable oils, it is widely used in cosmetics as an emollient, that is to say, it softens and protects skin or mucous membranes.
It is often used in lotions or ointments or part of soaps and other cosmetics.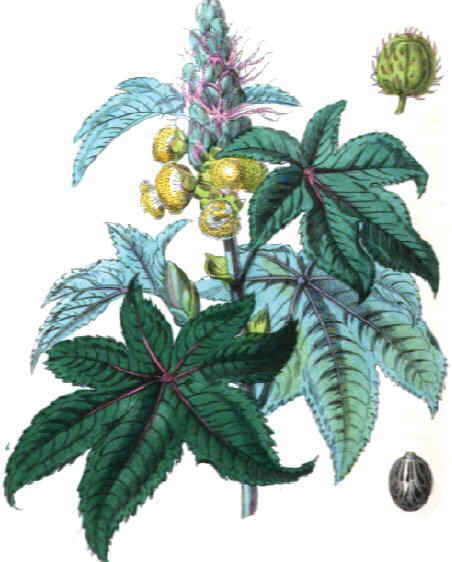 A Drawing of castor oil plant with a detail of fruits (top) and seed (below). Seed is where the castor oil is extracted from
What afections of the skin can castor oil be used for?
By means of castor oil you can treat dry scaly skin, eczema, herpes and even minor ulcers, wounds or superficial burns.
A properly hydrated skin is less susceptible to external attacks and kept in a better state of health.
For its unsaponifiable content, it is intended for the production of soaps, shampoos, as it gives hair a healthy,, shiny and smooth appearance.
And, because of its nutritive effect, it can be used as as an eyelashes and eyebrows booster, but it also minimizes the signs of expression as dark circles.
It is also used to diminish skin irritation and itching, eyelashes disorders such as flaking that is produced by blepharitis or even to treat dandruff.
It is also attributed with other external applications ranging from treating styes, mosquito repellent or even as a basis for biofuel.
Disadvantages of castor oil: Contraindications
Castor oil has a long shelf life, but, when it becomes stale, it is very dangerous because it also becomes highly toxic.
It is contraindicated if there is hypersensitivity and intestinal disorders or if you are suffering from diseases such as paralysis, irritable bowel syndrome, Crohn's disease, ulcerative colitis, fecal impaction, pain or bowel obstruction, as it only worsens the situation and may cause further damage.
Side effects of castor oil
Its regular use can cause side effects such as nausea, vomiting, cramps, diarrhea, major electrolyte losses, dependence, intestinal irritation, intense abdominal pain, poor appetite, malnutrition and anorexia.
If we make a overeating of castor oil, there is a treatment with papain.
Castor oil massage
Castor oil is also used for relaxing or aromatherapy massages.
* More information:
– Castor oil for your eyelashes
– Castor oil for your eyebrows
– Castor oil for removing makeup


More information on castor oil.
This article was endorsed by
Montserrat Enrich
- Journalist specializing in edible wild plants and plant uses.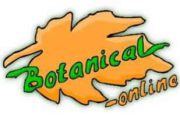 Written by
Editorial
Botanical-online team in charge of content writing