(Vitex agnus-castus)
DANGERS OF VITEX
Is Vitex toxic?
No, chaste tree is not a toxic plant, although its components has some important contraindications:
What are the components of Vitex?
– Vitex leaves are rich in iridoid glycosides as aucubin (0.3%) and agnuside (0.6%).
– Flavonoids: casticin, pensuletina and crisofanol.
– The essential oil of this plant (0.5%) is rich in cineol and pinene, which gives fragance to its aromatic seeds in the kitchen.
Vitex dangers and toxicity
Chasteberry is used to treat premenstrual syndrome, regulate the menstrual cycle and to treat symptoms of menopause.
Despite its hormonal effects, the plant does not contain hormones. Its effect is due to the action of the iridoid glycosides for binding to dopamine receptors, which stimulate the production of luteinizing hormone.
Luteinizing hormone (LH) is made by pituitary gland in the brain and serves to induce ovulation in women, and the production of androgens or testosterone in men.
Women with menstrual cramps use to experience an improvement in symptoms when taking this plant, which is mainly used for this purpose.
However, vitex can cause side effects when combined with hormonal therapies such as oral contraceptives, contraceptive implants and estrogen treatments for menopause.
Because of its effects on dopamine levels, people in treatment for depression should consult their doctor before taking this plant. Vitex should not be taken by people who with migraines taking dopamine receptors antagonists.
As side effects, vitex may cause irritation of the digestive tract (gastritis) and acne. It is recommended that, in case of gastritis, dose to be divided into two doses and always take it after eating some food.
Treatment should be stopped if some reactions appear, such as rash, skin rashes or itching in the tongue, as they may be indicative of some type of allergy. Stop treatment and consult a doctor.
Vitex in pregnancy and lactation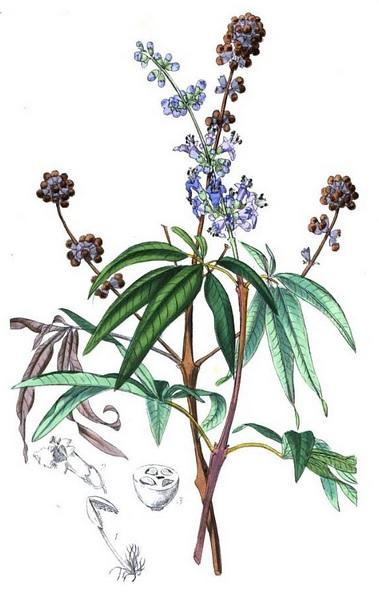 A drawing of the plant
Do NOT use of this plant during pregnancy and breastfeeding.
Although some experts say that it presents no adverse effects the first 90 days of pregnancy, the truth is that there is a risk that the plant components interfere on the levels of hormones that regulate pregnancy and miscarriage may occur. In vitro studies it has shown a possible effect as emmenagogue.
Do not take vitex if you are undergoing in vitro fertilization or artificial insemination: the plant can cause abortion.
The plant could reduce the production of breast milk because of its hormonal effects.
Do not take vitex in these stages. If in doubt, consult your health care professional.


More information about vitex properties, toxicity
This article was endorsed by
Vicente Martínez Centelles
- Founder of the web and director. Teacher of natural sciences, expert in plants, natural remedies and botanical photography.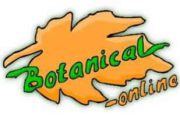 Written by
Editorial
Botanical-online team in charge of content writing