Natural herbal medicine for leg pain
CHARACTERISTICS OF LEG PAIN
What is leg pain?
Leg pain is the uncomfortable feeling that occurs in the legs as a result of many possible causes.
Symptoms of leg pain
Aching legs, leg pain, swelling, aching, heavy legs, etc.
Causes of leg pain
Among the main causes that can produce pain in a leg or both legs, there are the following:
Water retention or edema: Edema (abnormal accumulation of fluid in the body) is produced for various reasons, some of organic origin, such as heart problems, blood vessel problems, kidney or liver disease. Other times the pain caused by retention responds to being just too many hours sitting or standing without moving your legs. Whatever the cause that produces this condition, fluid retention is one of the most common reasons for which the legs are swollen and sore.
Traumatisms: The blows, strains, sprains, tears, fractures, etc. are many times responsible for severe pain in his legs.
Cramps: They are responsible for a very intense pain when to take place that it can extend later.
Circulatory Problems: The existence of diseases of the circulatory system in the lower limbs may manifest as pain in the legs. Of these, we have: varicose veins, poor circulation caused by atherosclerosis in the legs, thrombosis (poor circulation in the leg by blockage of a blood vessel by a thrombus or blood clot)
Inflammations: Inflammations produced by sciatica when the sciatic nerve becomes inflamed and produces pain throughout a leg. Articulatory inflammations produced by rheumatic diseases like arthritis or gout. Inflammations of the tendons or tendonitis.
Cellulite: A sensation of heaviness in the legs by stagnation of fluids, tingling.
Malignant or benign tumors in a leg.
Ingestion of certain medications.
Etc.
PHYTOTHERAPY: Preparations with plants for leg pain
In the treatment of leg pain is necessary to visit a doctor to diagnose the cause of the problem. This is especially necessary:
When there are breathing problems or chest pain.
When a leg is red or hot.
When one leg appears very cold or very pale.
If, along with the pain, fever appears.
When the leg changes color and appears darker.
During pregnancy, when the leg or legs begin to swell in a sudden way.
When no remedy, applied for a few days, can reduce or eliminate pain
Natural treatment of legs pain
The natural treatment of leg pain involves using a series of natural resources that help prevent or diminish it. Among them, we have:
MEDICINAL PLANTS TO TREAT OR PREVENT LEGS PAIN
Internal preparations for legs edemas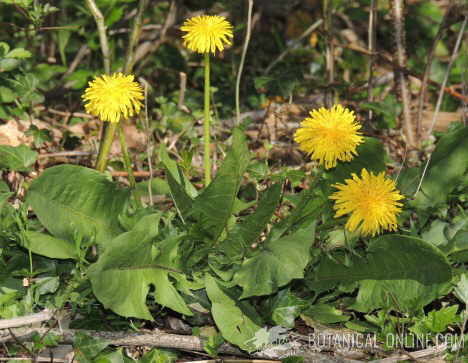 Dandelion dry leaves infusion is very effective for water retention in the legs
The excess of liquid retention in the legs, that is is leg edema, in most cases, it is the main cause of leg pain
Dandelion: (Taraxacum officinale Web.) It is one of the plants with more power to remove leg water retention. (Decoction for quarter of an hour of a handful of dried leaves and roots pints of water. Take a cup before each meal.) (Salad of fresh leaves)
Cherry tree: (Prunus avium) It stimulates urination, so it is appropriate to treat legs edema. Very suitable when legs pain is produce by cellulitis. (See treatment in the study of plant)
Diuretic infusions to remove lactic acid
When legs pain is the result of an excessive accumulation of lactic acid, because of too much exercise, a diuretic infusion will help to remove it.
Plant preparations to treat leg cramps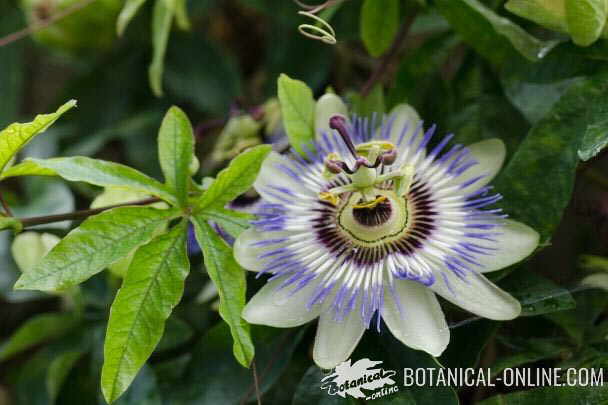 Passion flower preparations can relax your painful legs
Leg pain is sometimes produced by too tense muscles. Taking some relaxing teas or applying a sedative principle on the legs. Among all of them, we can use:
Passion flower (Passiflora caeurulea) . (Infusion of a couple of tablespoons of dried plant per half liter of water. Drink a couple of small cups a day) (Maceration of the desired amount of dry plant with the same amount of alcohol for a week. Filter and take about 25 drops per day)
Kumquat: (Fortunella spp) kumquat essential oil is rich in limonene, with sedative and tranquilizing properties. The tea leaves are used to treat cramps of nervous origin. (Infusion of a teaspoon of dried leaves three times a day or take the fruit in the diet)
Other remedies to diminish leg pain
No matter what the reason of leg pain is, the following remedies help to relax your legs, diminish pain and make you feel better. These remedies can be very useful when leg pain is due to some kind of traumatism or as a symptom of a rheumatic disease.
Rosemary (Rosmarinus officinalis) Take a 15 to 20 minutes. Add to the water 1 liter of the infusion of a handful of dried plant per liter of water.
Arnica (Arnica montana) Arnica lotion or ointment may be applied on the legs to diminish pain.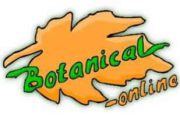 Written by
Editorial
Botanical-online team in charge of content writing