This article was endorsed by
Vicente Martínez Centelles
- Founder of the web and director. Teacher of natural sciences, expert in plants, natural remedies and botanical photography.
(Abelmoschus esculentus)
OKRA BENEFITS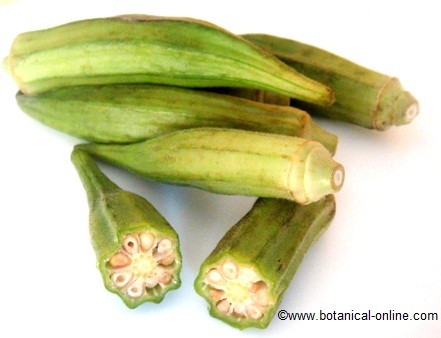 Okra fruits
Okra, okro, gumbo or angu is the fruit of a plant of African origin consumed mainly in Cameroon, Ghana, Nigeria, India, Iraq, Pakistan, Guatemala, Mexico and the United States,
Okra has a pepper-like appearance. It has a hard, elongated shape, with a pointy apex. It is yellowish green, but some varieties are white or purple, although they are less common in the markets. The surface is slightly hairy.
This plant, which is taken as a vegetable in soups, stews, or simply boiled or steamed, is very rich in fiber, vitamin C, beta carotene and potassium.
Inside it contains many seeds, which are rich in protein and flavonoids.
OKRA MEDICINAL PROPERTIES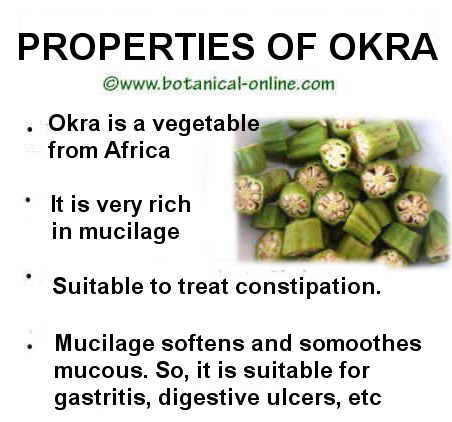 Main healing properties of okra
Gastritis: The main component of this food is its high fiber content, which gives it a gelatinous texture to the cooking water. Indeed, okra is a fruit rich in pectin, a soluble fiber with demulcent and emollient effect. Its viscosity provides hydration and protection to the gastric mucosa, while it helps reduce inflammation. For these qualities and because it is easy to digest, okra is a suitable food for people with reflux, gastritis, ulcers and suffering from heartburn.
Intestinal regulator: Because of its richness in fiber pectin, okra is a food highly recommended for intestinal disorders. It has protective effect of the gastrointestinal mucosa, and as a ressult of its ability to absorb water, it favors bulky stools and stimulates intestinal transit. For these properties, okra is suitable to treat constipation.

The seeds contained inside, which can also be consumed, contain antispasmodic substances that help relieve cramps. The roots, rich in fiber, are taken medicinally for its strong demulcent action.

Cardiovascular health: vegetables rich in fiber and phytochemicals, such as okra, play a very important role in the diet to prevent and treat cardiovascular disease. In different studies, okra has been studied for its antidiabetic and antihyperlipidemic potential.

The fiber in the fruit helps regulate the intestinal absorption of sugar, being a very appropriate vegetable in diets for diabetes. This food has been shown in studies to improve the blood glucose levels and, at long term, the serum glycated hemoglobin levels (HbA1c).

In addition, regular consumption of okra, along with diet for cholesterol, helps lower "bad" (LDL) cholesterol, because it captures between its fiber part of the fat eaten preventing its absorption. Okra is a highly recommended food to treat cholesterol and vegetable cleansing diets.

This vegetable also contains vitamin C, vitamin E, beta carotene and polyphenols, potent antioxidants components involved in the health of blood vessels, which makes okra to be very healthy for people with hypertension and arteriosclerosis. Being low in fat and calories, it is suitable in slimming plans, and for overweight or obese diets.
OKRA TO PERFORM BETTER IN YOUR STUDIES
A scientific study at the University of Mahasarakham (Thailand) has shown that okra protects neuronal function, improves learning and memory due to its content in flavonoids quercetin and routine, which have a neuroprotective effect. By these findings, it appears that okra is a food indicated in the diet to increase memory.

More information on okra.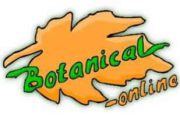 Written by
Editorial
Botanical-online team in charge of content writing