Are cookies without gluten good for coeliacs?
Gluten free flour for coeliacs
Cookies without gluten and products for coeliacs?
When an autoimmune diet is initiated, gluten food consumption is discouraged (bread, wheat) and processed food containing them (wheat flour, cookies, pastries, cakes, etc.).
Some people replace these foods by those ones processed without gluten (for coeliacs) although most are not suitable because the ingredients they contain are not recommended: bran, excess of sugar, bad fats, bad quality oils, hydrogenated fats, additives such as sweeteners and emulsifiers, etc.
What can you eat on special occasions?
Those days when you feel like eating something special, there are options to eat sweets while still eating healthy foods (We offer you some recipes)
target="_blank">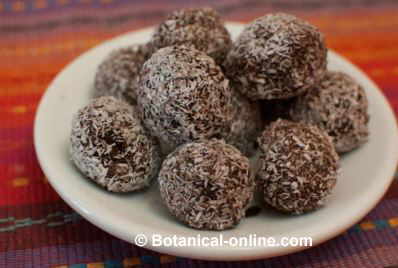 Healthy recipe of homemade truffles, without gluten and with natural ingredients
*Related information:
- Bad food for immune system diseases
- Recommended Dietary foods for autoimmune diseases
- Natural treatment of autoimmune diseases

More information on autoimmune disease diet and remedies in the listing above
Other interesting articles
This material is for informational purposes only. In case of doubt, consult the doctor.
"Botanical" is not responsible for damages caused by self-medication.