Honey benefits
EDIBLE BENEFITS OF HONEY
Honey is a natural medicine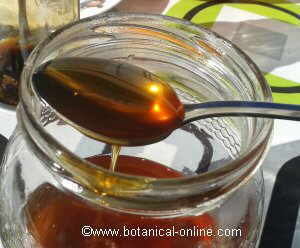 Photo of chestnut honey
Honey has always been regarded as something more than just food. Early civilizations considered honey as a "magic" product.
From this point of view, it is normal that honey jars have been found in the tombs of the Egyptian pharaohs. They thought that honey could feed them and protect them in the new world.
Among the main beneficial effects of honey are the following:
- Provide energy
- Help prevent and treat respiratory diseases
- Serve as tranquilizer and sedative
- To regulate the intestinal transit, helping to prevent the appearance of diarrhea and exerting, at the same time, a slightly sedative effect in cases of constipation.
- Contribute to the prevention of intestinal bacterial diseases.
- Help in healing and prevent infections in wounds and burns
- Prevent the formation of stomach ulcers and help in their healing.
(More information about honey properties in the listing above)
Honey is a very suitable cosmetic
The use of honey in cosmetics is very broad. Combined with lemon, oatmeal or other ingredients can be used to make masks, creams or tonics for skin care. Honey can remove stains or freckles
The use of honey to make homemade shampoo is also widely recognized
Also honey, combined with olive oil, can be used to make natural soap.
More information on the cosmetic properties of honey in the listing above
Honey, a very sweet and natural sweetener
As food, honey is part of many recipes, such as desserts, roasts, combined with cereals, etc.
It is used as a sweetener to sweeten beverages or herbal teas, being more recommended that sugar by its greater balance in carbohydrates and by the great amount of components that it presents providing honey with more advantages than sugar.

More information on honey in the listing above.
Other interesting articles
This material is for informational purposes only. In case of doubt, consult the doctor.
"Botanical" is not responsible for damages caused by self-medication.