Lavender essential oil properties
Benefits of lavender essential oil
CHARACTERISTICS OF LAVENDER ESSENTIAL OIL
Lavender plant profile
Currently, lavender is grown in abundance in several countries (UK, South of France, Tasmania, New Zealand and Bulgaria).
Fragrance of lavender oil varies according to altitude where it is grown.
High altitude oils are more sharp and with fresh aromas; low altitude are sweeter and softer.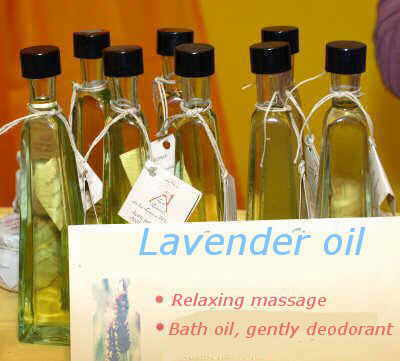 Photo of lavender essential oil
Lavender fragrance profile
Generally soft, sweet and floral, camphor-like and a little sharp
Medicinal properties of lavender essential oil
- Cleaner.
- Stress releaser
- Excellent restful for tired muscles
- Healing, ideal for skin regeneration
What are the main uses of lavender essential oil?
Among the main uses, we have the following:
- Soothes the pain of burns
- Cuts
- Headaches, migraines
Toxicity, side effects and contraindications of lavender essential oil
Therapeutic preparations of lavender essential oil generally have no contraindications. (2-4 drops. 2 to 3 times daily, diluted in water, other oils or sugar)
Used in higher doses is toxic and can be fatal. The first manifestations are central nervous system excitation with possible hallucinations.
This state may change into a depressive phase dominated by its narcotic effects. At this stage there is and increase of heart rate and respiratory parameters.
The final effects can range from a simple headache to nausea, vomiting or other gastrointestinal problems, convulsions and death from cardiac arrest.
Doses higher than 1 g, of the essential oil produces general anesthesia.
Topical application of essential oil may cause some people sensitive eczema or contact dermatitis. It is advisable to carry out small tests to determine tolerability. Never use lavender essential oil directly onto the skin. This should be diluted with water or other oils.
The use of essential oil is contraindicated in pregnancy because it may be abortive, in breast feeding and gastrointestinal problems (gastritis, gastric ulcer, duodenal ulcer, or presence of blood in the urine)

More information on lavender in the listing above
Other interesting articles
This material is for informational purposes only. In case of doubt, consult the doctor.
"Botanical" is not responsible for damages caused by self-medication.