Millet recipe for celiacs
Millet recipe without gluten
Properties of millet recipe
It is an energetic and nutritious recipe. It mainly provides carbohydrates, with a high content of B vitamins, important for the functioning of the nervous system, so it can aid to people with stress, anxiety, depression, students, fatigue,, etc.
In addition to the benefits of its richness in fiber, millet provides more nutritional value than other refined grains because it has a high content of magnesium, folate, iron and zinc than white rice or pasta.
Ideal recipe for all kinds of healthy diets and especially suitable for celiac diets because millet does not contain gluten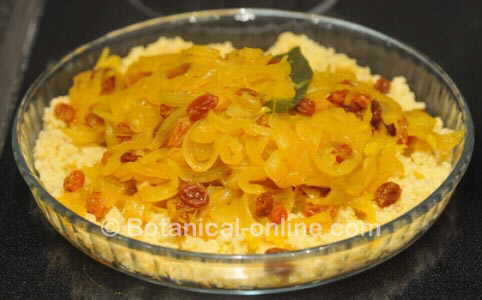 Millet recipe for celiacs
Other benefits of millet recipe for celiacs
Being a plant food recipe, it adds to our diet different components:
- Raisins contain good doses of calcium and magnesium, in addition to resveratrol, a heart-healthy antioxidant flavonoid.
- Onions are rich in sulfur compounds with diuretic properties and to improve circulation.
- Turmeric provides, in addition to color, the benefits of curcuminoids to improve digestion, prevent stomach pain and liver cleansing.
- Olive oil helps lowering cholesterol, prevents hypertension and improves the absortion of other nutrients.
RECIPE OF MILLED WITH BRAISED ONION AND RAISINS
Ingredients of millet recipe for celiacs
- 80 g. millet per person, (about half a glass)
- 50 g. raisins
- 2 onions
- 1 tablespoon turmeric powder
- 1 bay leaf
- Salt or herb salt
Preparation and processing of the recipe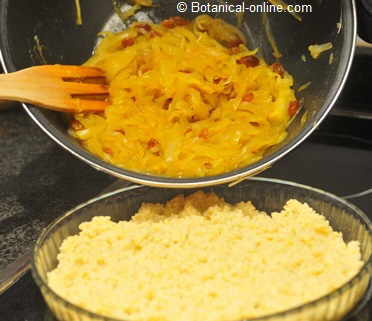 Braised onion is turned over cooked millet
- Millet preparation: First of all, millet measurement must be done with the aid of a glass or meter. A full glass can serve for 2 servings of millet, as it doubles in volume once cooked.
- Wash the millet in a bowl with cold water, stir it under running water, rinse thoroughly with water.
- Put in a pot to boil three times more water that millet (1 cup of millet, 3 glasses of water). You can use vegetable broth instead of water. Add a bay leaf.
- Once it starts boiling, pour the millet, lower the heat to medium intensity and cover. Millet may take 45 minutes to be cooked.
- In a wok, saute the onion with a pinch of salt and a drizzle of olive oil over medium-low heat, until caramelized. Go stirring constantly.
- Add the turmeric to the fried onion and stir to mix well. Add raisins, stir, and cook 2 minutes over medium heat.

How is served?
Add the braised onions with raisins to the cooked millet, mix well and serve.

More recipes and information on millet in the listing above.
Other interesting articles
This material is for informational purposes only. In case of doubt, consult the doctor.
"Botanical" is not responsible for damages caused by self-medication.