Bryonia cretica L. subsp. dioica Jacq.
White Bryony
PHOTOS OF WHITE BRYONY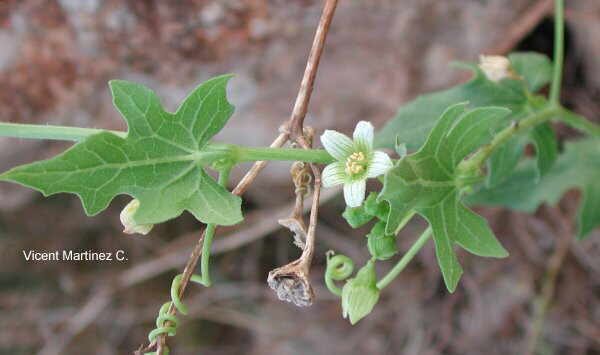 Photo of Bryonia dioica L.
Bryonia cretica L. subsp. dioica Jacq. - (White Bryony)
Perennial climbing herb of the Gourd Family -Cucurbitaceae- up to 4 m. Slim, brislly, weak stems. Leaves with five lobes, opposite to non - ligneous tendrils. Pale green flowers, dioecious; male ones till 1'8 cm with peduncle, smaller tnat the female ones which almost appear without peduncles. Trilobate stigmas. The fruit is a red berry till 1 cm in diameter.
More information about plants in the listing above.
Other interesting articles
This material is for informational purposes only. In case of doubt, consult the doctor.
"Botanical" is not responsible for damages caused by self-medication.