What is a chard?
Characteristics of a chard (Beta vulgaris)
Chard (Beta vulgaris) is a plant of the Amaranthaceae family, native to southern Europe and, according to a more general opinion, Italy.
It comes from the wild species sea beet (Beta maritima Linn), which grows freely in many sea areas of southern Europe and northern Africa or watery areas and brackish inland. The leaves of this species, either raw or cooked, are also edible.
They are considered especially delicious at the beginning of the season, in the spring when the leaves are young and tender and eaten as if they were spinach. In fact, this plant is also commonly known as "wild spinach". As the season progresses, the leaves become more bitter. From this moment, many people find them unpleasant.
Chard produce napiform edible roots, widened by the accumulation of reserve substances. These roots are known as beets, although the plants grown for their roots are mostly vegetables belonging to the variety Beta vulgaris var. vulgaris while being grown for the consumption of their leaves are plants of the variety Beta vulgaris var. cicla.
Both varieties, however, have edible roots and leaves.
History of Swiss chard
There are written records that suggest the consumption of these leaves in the ninth century BC in Mesopotamia. In fact, the chard has been widely used since antiquity for human and animal consumption, not only its leaves but also its roots. It seems that the Egyptians consumed it regularly and the Greeks, Romans and Arabs often cultivated them.
After years of vilification, when the chard was considered a "vegetable of the poor" and "food for the animals", the consumption of spinach leaves has been increasing, constituting the main vegetables after spinach.
It was from the nineteenth century D. C. when the use of the root of this plant as general food was abandoned and it was intended primarily for the production of sugar or alcohol extraction, while the sugar variety of this species was exploited (Beta vulgaris var. altissima). Less specialized varieties were being earmarked for animal feed.
Uses of chard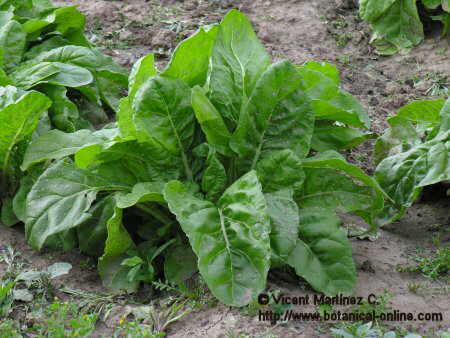 Detail of the chard leaves
Chard is grown mainly for its leaves, which are shiny and very thick with prominent veins. Their color varies greatly depending on the variety, and there are varieties that produce red leaves and others that are greener. The succulent leaves are called "pads" and are prized in cooking. They may present shades of red, yellow or white and they are very tender and tasty with a slightly bitter touch. The leaves are often eaten well boiled, while the leaves can be eaten lightly cooked, as if they were spinach.
Chard is a biennial plant. In the first year of life is when the leaves are collected, when they are young and tender and are located at the foot of the rosette-shaped plant. During this year, this plant tends to concentrate all its production in developing leaves, while the root is slightly thickened.
In the second cycle of life, the plant will stop investing energy in developing leaves. Left to grow, it can reach two meters in height to produce a floriferous stem with upper peg with tiny green flowers. The leaves are stiff and and they become bitter and are not suitable for eating; however, some people prefer the taste of the grown plant and collect their leaves and stalks for cooking chips. It is during this second year when the root is thickened with reserve substances.
Varieties or classes of chard
Among all, we could mention:
* Curly leaf varieties:
Lucullus. It has white stalks and large leaves of pale green. Very productive and tasty variety.
Rhubarb: Stalks dark red and glossy dark green leaves with reddish undersides.
Yellow Lyon: It is the variety most widely grown chard. This variety produces abundant leaves with white stalks and green leaves yellow.
Brightlights: Named for the variety of colors of the leaves can be red, yellow, white, orange, green or violet. It is very tasty and decorative in the garden as much over the plate.
Bright yellow: It has bright yellow leaves of a very prominent in the garden.
Fordhook giant: light green leaves and yellow green stalks. It grows quickly and adapts to many climates.
Giant Crimson: glossy dark green leaves. Crimson stems. Especially valuable to eat very tender.
*Smooth leaf varieties:
Carde Blanche: French French variety with dark green leaves and white stalks.
Bressane: Has dark green leaves and stalks very wide.
Chard production in the world
Chard is a fairly widespread cultivated plant worldwide. Although it originated in Europe, from here it spread to other parts of Asia and America.
In Europe the main producers are Germany, France, Italy and Holland.
United States and Canada are the main producers in America.


More information about chard.
This article was endorsed by
Julián Masats
- Technical agricultural engineer specialized in horticulture and gardening.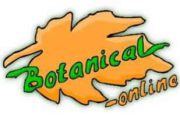 Written by
Editorial
Botanical-online team in charge of content writing