Is beetroot good for people with diabetes?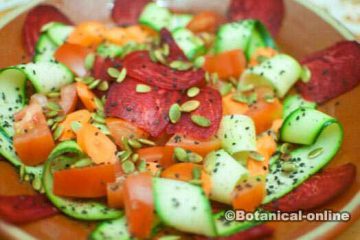 Does beetroot have a lot of sugar?
Beet, red beet, golden beet,  beet root, garden beet or table beet   is a sweet vegetable, because it contains sugars. One of the most repeated claims about beet is that it contains a lot of sugar and that diabetics should not consume it.
However, it should not be confused with sugar beet, grown for the extraction of sugar, which has a higher percentage of sugar than red beet or beet.
Is it true that it contains a lot of sugar?
Red beet does not contain much sugar, although it is certainly the vegetable that contributes the most sugar. One red beet (100g) contains 10 grams of carbohydrates, of which 8 are sugars.
This amount is equivalent to the sugar content of, for example, half an apple.
Is  red  beet a healthy food?
The beet is very suitable for:
Provide essential nutrients for health, like all vegetables
Improve hypertension and heart disease
For the production of red blood cells
Eating beets usually reduces hypertension. These effects have been proven in scientific studies.
Is  red beet recommended for diabetes?
The sugar content of beet does not contraindicate it for diabetics. On the contrary, because of its properties, beet is beneficial for diabetes.
Benefits of beets for diabetes
Beet is one of the richest foods in folate or folic acid (vitamin B9). This vitamin is very important because it is only found in vegetables and is essential to improve circulation and heart health, which are compromised in diabetics.
The function of folic acid is to clean the arteries and reduce homocysteine ​​levels in the blood. Homocysteine ​​is a cardiotoxic whose elevated levels indicate a high risk of cardiovascular accidents such as stroke and heart attack.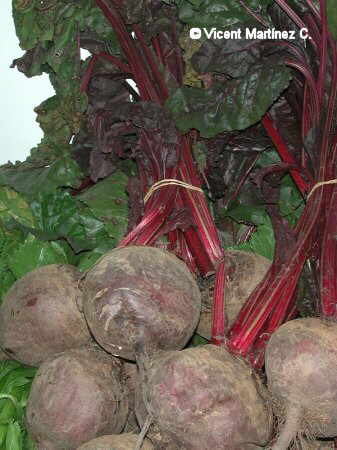 It seems that the responsible substance is nitric oxide, a powerful vasodilator that relaxes the arteries and that, together with folic acid, helps to preserve the elasticity and health of blood vessels.
Antioxidants of beet
In addition, beets contain many antioxidants, in particular its red pigment, betacyanin, and vitamin C.
These substances neutralize the negative effects of free radicals acting as excellent rejuvenators of the skin, organs and the organism in general.
Nutritional value of beets for diabetes
Beet contains mainly water (88%), being a very moisturizing and satiating food.
Provides 10 grams of carbohydrates, equivalent to a serving of HC for diabetics.
It also contains fiber (3%) that helps slow the assimilation of these carbohydrates.
Like all vegetables, it is low in sodium (salt) and rich in potassium. This balance is very beneficial for the heart.
Among its micronutrients, it contains antioxidants, zinc and B vitamins (except B12).
Nutritional composition of beet
A boiled beet contains per 100g:
Water: 87.5 gr.
Calories: 43 Kcal
Fat: 0.17 gr.
Protein: 1.61 gr.
Carbohydrates:9.56 gr.
Fiber: 2.8 gr.
Potassium: 325 mg
Folacin:  109 mcg
How to take beets for diabetes?
Beet is suitable to improve the circulation and health of the heart and therefore, recommended for diabetics.
Its benefits can be obtained by steaming it, boiling it with skin (so that it loses less potassium and B vitamins), in soups, raw in salads, or in recipes such as beetroot hummus.
What to eat beet with in case of diabetes?
It is recommended to combine beets with seeds, salads with oil, legumes or meats, in short, foods that lower their glycemic index. Seeds and oils, containing fats, slow down the absorption of sugar.
Avoid its combination with other foods with many carbohydrates, such as rice dishes, pasta or a lot of bread.
* Related information: Foods rich in sugar


More information on diabetes and food
This article was endorsed by
Elisenda Carballido
- Dietitian nutritionist. Postgraduate in Phytotherapy and master in Nutrition and Metabolism.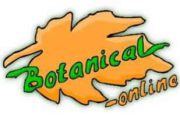 Written by
Editorial
Botanical-online team in charge of content writing