Bok choy edible properties
What is Chinese cabbage?
Chinese cabbage or bok choy (Brassica rapa var. Pekinensis), is a type of cabbage that is grown mainly in Asian countries.
Currently you can find it in different markets around the world.
Mainly used to make fermented cabbage (sauerkraut), but also consumed as a vegetable, boiled or in soups.
How to cook Chinese cabbage bok choy
Chinese cabbage has a crunchy texture and a slightly sweet flavor, which can be eaten raw in salads, fermented (sauerkraut), boiled or in soups.
The easiest way to cook it would be cutting its fine leaves and boil them for 5-6 minutes, season with oil and with toasted sesame seeds.
Cooking it too much can make this food to lose its flavor and many of their properties.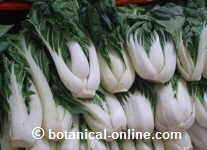 Picture of Chinese cabbage bok choy in a market.
EDIBLE PROPERTIES OF CHINESE CABBAGE
Which brings me Chinese cabbage or bok choy?
It is rich in fiber, vitamins and antioxidants. Low in calories and low in fat. Ideal in any balanced diet.
It is very rich in folic acid and pyridoxine, two vitamins that help reduce homocysteine  levels. High levels of homocysteine promote thrombus and increase the risk of heart problems.
Contains GABA, an amino acid with properties to reduce hypertension.
Suitable for low sodium diets.
Provides certain amounts of omega 3, which helps reduce cholesterol and improves circulation.
Cruciferous vegetables, such as bok choy, are the richest vegetables in vitamin C, after fruits. We recommend taking these vegetables especially those people with allergy to various fruits, to increase the contribution of this important vitamin in the diet. Very rich in betacarotene or provitamin A, which prevents vision problems such as night blindness and cataracts.
Because of its high content of vitamin C and beta carotene, it helps form collagen and improves skin appearance. To heal and care for the skin, muscles and joints.
It contains glucosinolates, some sulfur compounds with anticancer properties for colon, breast and lung.
It is diuretic, very appropriate in diseases such as gout, arthritis or fluid retention.
Recipes with bok choy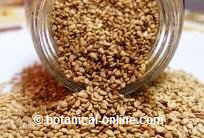 Photography of sesame. This seed is widely used in Asian cooking and blends well with bok choy. It is also rich in calcium.
Bok choy is mainly consumed in China, especially in Guangdong province. We can also find it in some Southeast Asian countries
How is bok choy consumed?
You can eat Chinese cabbage in the following ways:
Raw: A few fresh and well washed leaves can be added to salads. They provide a lot of vitamin C and betacarotene, and a refreshing and slightly spicy flavor. Prepare only the young shoots.
This is the best way to get their nutrients.
Fermented cabbage (sauerkraut): Raw salted shredded cabbage is prepared inside an airtight glass to ferment for at least 22 days. You can add all sorts of preparations.
You should moderate it with heart problems or if you require to follow low-salt diets.
Boiled for 15 minutes: This is the most simple way of consuming it, but not the least nutritious.
It is cooked as a spinach and served with a little oil and, optionally, with toasted sesame.
Do not overcook, as it can lose up to 40% of their phenolic compounds (which are what give it its antioxidant properties) if you cook more than 15 minutes.
Saute the wok (stir frying): Sauté with other vegetables such as carrots, peppers, etc.. in the wok.
You can add soy sauce and sesame.
To wrap meat and rice.
Traditional soups like ramen kimchi.
It is added to the vegetable fried rice or noodles.
Where to buy Chinese cabbage?
Bok choy can be found in the market throughout the year.
In countries where it is still not common this type of cabbage, it can be purchased at most specialty markets.
Asian Supermarkets
You should not acquire bruised plants, with spots or other signs of poor maintenance.
NUTRITIONAL COMPOSITION OF CHINESE CABBAGE PER 100 G.

Calories (Kcal.)

16

Fats (g.)

0,2

Omega 6 (mg.)

15,5

Omega 3 (mg.)
51,7
Carbohydrates (g.)

3,2

Proteins (g.)

1,2

Fiber (g.)

3,1

Potassium (mg.)
238
Sodium (mg.)

9

Phosphorus (mg.)

29

Magnesium(mg.)

13

Calcium (mg.)

77

Iron (mg.)

0,3

Vitamin C (mg.)
27
Vitamin E (mg.)

0,12

Vitamin A (UI)
1.200
Vitamin B1 (mg.)

0,04

Vitamin B2 (mg.)

0,05

Niacin (mg.)

0,4

Pantothenic acid (mg.)

0,11

Pyridoxine (mg.)
0,23
Folic acid (mg.)
79


More information on Chinese cabbage
This article was endorsed by
Elisenda Carballido
- Dietitian nutritionist. Postgraduate in Phytotherapy and master in Nutrition and Metabolism.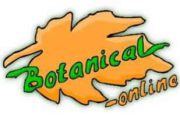 Written by
Editorial
Botanical-online team in charge of content writing