Recipes with cardoons
What is cardoon?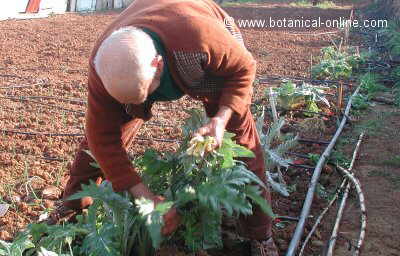 Cardoons are the petiole or leaves of the leaves of a plant called artichoke thistle or cardoon (Cynara cardunculus L.), which belongs to the same family of artichokes or milk thistles.
How are cardoons consumed?
They are eaten as a vegetable and have a neutral, slightly bitter taste that goes with many preparations, such as soups, stews, quiches, etc. Young cardoons can also be eaten simply boiled, with other vegetables such as carrots, cauliflower, etc.
Traditional cuisine adds cardoon to meat stews, because the high fiber content of cardoons helps to balance this recipe.
Beneficial properties of cardoons
Cardoons, like artichokes, are an ideal food for liver and gallbladder health.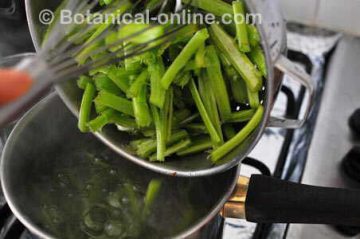 To benefit from all the properties of this vegetable, it is recommended to use tender cardoons, gently cook them, combine them with healthy foods and season them with a quality oil. In this way, the cardoons will better preserve their vitamins and minerals, and will help purify the body.
How are cardoons cooked?
Cardoons are cooked like Swiss chard or other vegetables. Its fibrous leaves require a slightly longer cooking time than other vegetables, and also require greater chewing, which is especially recommended in cases of obesity and anxiety about food, as it provides a lot of satiety.
Preparation of cardoons for cooking
The procedure for cooking cardoons is as follows:
Wash with plenty of water, remove the remains of soil and leaves that they may have.
As it is a very fibrous vegetable, with a knife you must remove the strings that the leaves have, as if they were peeling.
Immerse the leaves in cold water with the squeezed juice of half a lemon so they don't turn black.
Types of thistles that can be found
Two types of thistles must be distinguished, whose preparation is very different:
The thistles that can be purchased in the markets usually have very wide and large leaves, which are very fibrous. In these cases, it is necessary to peel the leaves well to remove their numerous fibrous and hard threads. It requires a long time to cook, and may need up to 1 hour of boiling.
If you have an orchard, you can collect the youngest leaves and obtain very tender, smaller and less fibrous cardoons. It does not have as many fibrous threads as the adult leaves. Its properties are greater, given its short cooking, about 10 minutes, it makes it better preserve its nutrients.
The stems of milk thistle (Sylibum marianum L.) are also edible and are commonly consumed in Mediterranean countries. Its leaves are thin and not very fibrous, the remains of the leaves should be removed with scissors and boil for about 10 minutes, like tender cardoons. For this, it is important to comply with the rules for collecting wild plants.
Benefits of eating cardoons
Cardoons have the benefits of vegetables, which are their high content of fiber, potassium, beta-carotene (provitamin A) and folic acid.
A diet rich in plant foods with these characteristics helps prevent constipation problems, improves diuresis and helps maintain the digestive, circulatory and urinary systems in good health.
*See: Boiled thistles with tofu sauce


More information on thistle properties
This article was endorsed by
Elisenda Carballido
- Dietitian nutritionist. Postgraduate in Phytotherapy and master in Nutrition and Metabolism.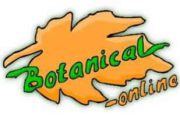 Written by
Editorial
Botanical-online team in charge of content writing