TEA MEDICINAL COMPONENTS AND ACTIVE PRINCIPLES
Why is tea a medicinal plant?
Tea can be considered a medicinal plant because it contains some components that provide it with curative properties.
The main medicinal components of tea are the following:
TEA MINERALS
The yellow – greenish that all tea infusions have is due in part to its mineral content, such as magnesium , potassium, calcium, manganese and fluoride.
These components, apart from adding some tinges to the tea, can be considered, diuretic, alkalizing and beneficial to the body.
For example, studies show that tea consumption is associated with reduced risk of dental caries due to fluoride and to the antibacterial properties of tannins.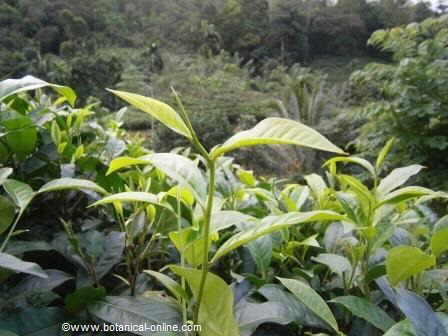 Photography tea plant (Camellia sinensis)
CAFFEINE AND TEA ALKALOIDS
Tea caffeine is a xanthine base (an alkaloid derived from a purine), which gives the drink some of its flavor, so a " decaffeinated " tea, can be more smooth. Caffeine also provides its stimulatory effect, which is directly proportional to their relative content, usually between 2-5%.
In lower amounts than caffeine, tea also contains theobromine and theophylline, also other nervous system stimulant alkaloids.
Black tea is the richest in caffeine (55 mg. Per cup), because it has gone through a pseudo – fermentation process during which tannins and caffeine are released. Semi-fermented tea follows it as the second richest in caffeine (30 mg. Per cup), green tea and red tea attain intermediate levels (20 to 25 mg. Per cup). White tea is the poorest in caffeine (15 mg. Per cup).
The following chart shows the different caffeine content of the different types of tea.
CAFFEINE CONTENT OF EACH TYPE OF TEA PER CUP OF TEA INFUSION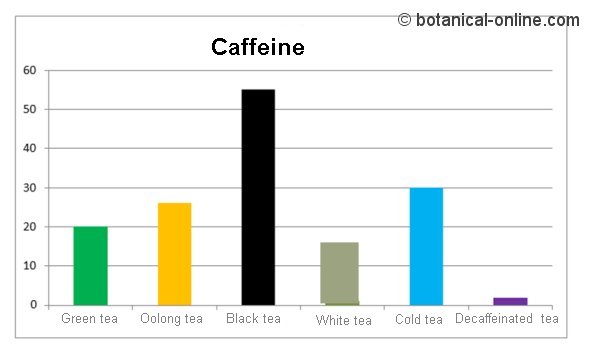 POLYPHENOLS, FLAVONOIDS AND PIGMENTS OF TEA
A tea infusion only contains traces of leaf pigments, such as chlorophyll (especially some teas, such as Gyokuro and Pai Mu Tan).
The yellowing of tea infusions is also due to its flavonoid content, specifically catechins and tannins:
Catechins give the tea infusion astringent and antioxidant properties with a bitter flavor and dark color. These catechins are affected and diminished, by the fermentation of the development of some kinds of teas. For example, in the oxidation process that black tea undergoes, these components degrade into theaflavins and thearubigins, orange or ruby, which give the characteristic reddish color to black tea.
For this reason, green tea contains up to 30 % of catechins, compared to black tea, for instance, that does not retain or contain that proportion, or decaffeinated tea that has also lost substantial part of those principles. The mode a infusion is done also varies its content.
Tea also contains others flavonoids, such as condensed tannins and proanthocyanidins.
These flavonoids have protective functions of blood capillaries, especially on eye health. Carotenoids give their color and floral aromas. These are found in the form of beta carotene, neo-xanthines, xanthophylls, etc..
This plant also contains no flavonoids phytochemicals, such as phenolic acids (gallic acid, caffeic acid and chlorogenic acid) reaching concentrations up to 35%. They give tea astringency, density, color and floral flavors.
The following chart shows the catechin content of different types of tea:
CATECHINS CONTENT OF EACH TYPE OF TEA PER CUP OF TEA INFUSION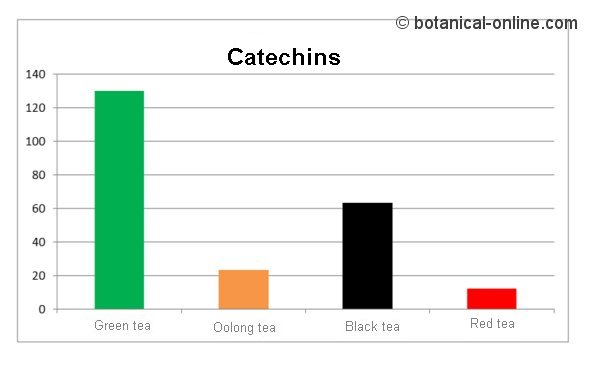 TEA FLAVORS
Tea aromatics vary according to tea processing. The fermentation, besides concentrating the aromas, also involves changes due to oxidation reactions that intensify fruity and floral aromas, also its bitter taste, its color darkens and its astringency grows.


More information about tea.
This article was endorsed by
Montserrat Enrich
- Journalist specializing in edible wild plants and plant uses.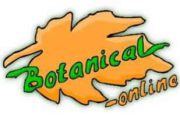 Written by
Editorial
Botanical-online team in charge of content writing