BLACK TEA CLASSES
What is black tea?
Black tea is a mildly stimulating drink that is obtained from the leaves of the tea plant (Camellia sinensis).
Black tea differs from other types of tea because it has undergone a process of complete oxidation.
During this process, the polyphenols of the leaves have been oxidized, causing darkening of the leaves. Due to this type of tea being very dark, it is called black tea. It is also known as pseudo – fermented tea or fermented.
Black tea is as astringent tea because polyphenols have become theaflavins and thearubigins, giving the infusion a reddish color and a bitter taste.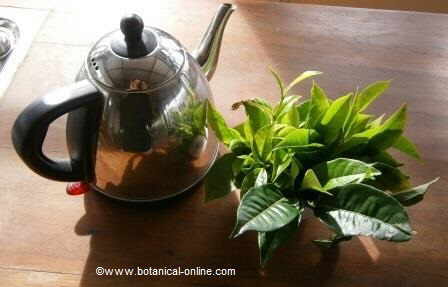 Photo of infusion with tea leaves
(Camellia sinensis)
Black tea, A fermented tea?
Popularly there is widespread belief that black tea is a fermented tea.
However, the process of making black tea is not really a fermentation, since there is not any microorganism (bacteria) involved. Recently it is wanted to change the term by aeration because it is considered to be more correct.
This change of terms is also due to the fact that, in Muslim countries, it is believed that black tea might contain alcohol because it is a " fermented " plant, something which is not true.
Benefits of black tea
Black tea tea acts as a moderately stimulating tea, reason why it is usually taken as the first thing in the morning (as in the popular English Breakfast).
The stimulant effects are due to its caffeine content (= Theine), which stimulates the nervous system. However, the effects of black tea are not comparable to those of other beverages such as coffee: A cup of black tea provides half as much caffeine as coffee. (More information: Caffeine content of beverages)
In addition, black tea contains a certain amount of tannins, which help regulate the absorption of caffeine so its effect are not as immediate. For this reason, it is moderately stimulant, without the power of coffee.
During processing, its polyphenols are oxidized, so that its antioxidant capacity will be lower than green tea. However, it still retains some of its active ingredients (catechins), so that, although less effective than green tea, it has antioxidant properties to reduce cholesterol , prevent arteriosclerosis and Parkinson's.
Another feature of black teas lies in its composition. It contains theaflavins and thearubigins, astringent substances derived from the oxidation of tea polyphenols. They bring the strong characteristic flavor of black tea. They are also responsible for the red or orange tinge and astringency of black tea infusions.
*More information: Properties of black tea
Types of black teas
There are many types of black teas, according to its quality and also according to its origin:
Types of tea according to their quality
Tea experts know that the best beverage flavor is obtained from the youngest buds of tea shoot. In contrast, the older leaves produce strongly flavored teas.
It is also taken into account the size of the particles:(For example, infusion bags containing crushed tea). If they have a strong, bitter flavor, they are considered low quality teas. * More information: Classes of black tea.
Teas by source
There are some black teas that have a reputation for their home, either because the region has a favorable climate for the cultivation of the plant, or because they are produced with the traditional method. These teas are among the best known:
– Lapsang Souchong: Chinese black tea smoked over coals. It has a very distinctive flavor. It can be found in Fujian occurs.
– Ceylon tea: Black tea produced in the island of Sri Lanka (formerly Ceylon). The plant grows in a privileged region: temperate climate, humid and at altitudes of 600 to 2,300. The most reputable provinces where the tea is grown are: Ella, Haputale, Nuwara Eliya and Rahuma. They have different qualities of tea.
– Darjeeling black tea, grown in Darjeeling, a region of Bengal (India) on the Himalayas. The tea plant grows to 2,100. altitude and a suitable climate make it ideal for a piece of quality and taste. Take with milk or lemon.
– English Breakfast: Blend of black teas that is taken with milk at breakfast. It has a strong flavor and a moderate caffeine content, designed to " start the day".
– Earl Grey: Blend of black teas with bergamot flowers. Very aromatic and one of the most popular among the different blends (mixtures) of teas.
– Assam black tea originating in India. It tastes stronger than Darjeeling. Used to prepare the popular English Breakfast.
– Keemun: black tea originally from Anhui, China.
* More information: Teas of the world in the listing below.
How is a black tea infusion made?
– Black tea can be infused at a highest temperature of 95 º C to obtain all its components. It should never be boiled.
– Cover and let stand 4 minutes.
– The infusion will be dark, full-bodied and strong-flavoured.
When can you drink a cup of black tea?
You can drink it in the morning, noon or evening. Due to its moderate caffeine content (caffeine content of a tea cup is half of what a cup of coffee has), Black tea should not be taken at night.
People with heart disease or high blood pressure should avoid this drink, in the same way than they should avoid drinking coffee. They can choose other decaffeinated teas such as Rooibos teas or milky white tea.


More information about tea.
This article was endorsed by
Vicente Martínez Centelles
- Founder of the web and director. Teacher of natural sciences, expert in plants, natural remedies and botanical photography.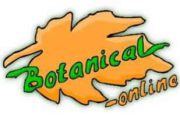 Written by
Editorial
Botanical-online team in charge of content writing