Is oat bran good to treat constipation?
REMEDIES FOR CONSTIPATION WITH OAT BRAN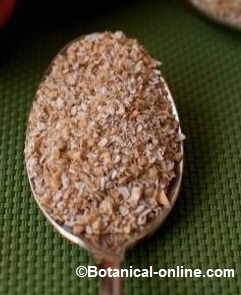 Photo of a spoon full of oat bran. Approximately, 1 tablespoon of oat bran contains 2.5 grams of fiber.
Oats for constipation
Oat bran is a fiber supplement made from the husk and some oat grain fragments (Avena sativa).
This supplement has properties to reduce cholesterol and triglycerides, to treat hypertension, obesity, in the control of diabetes, against constipation and for hemorrhoids.
Scientific studies support the properties of oat bran as an effective remedy for the treatment of constipation, to improve the intestinal flora and for the prevention of some digestive diseases.
Why is oat fiber very good for constipation?
The properties of oats are due to their content in beta-glucans, a soluble fiber, which is hydrated, forming a voluminous mass that stimulates peristaltic or intestinal movements, helping to accelerate transit.
During its passage through the intestinal tract, beta-glucans capture between their fibers bile and cholesterol juices so that they are not absorbed and can be excreted, so, in addition to treating constipation, consuming oat bran reduces cholesterol.
Because of its insoluble fiber content, it is very beneficial for the treatment of hemorrhoids by increasing the volume of feces and facilitating their expulsion, preventing the appearance of piles.
Oat bran is also rich in insoluble fiber (cellulose type, like wheat bran). This type of fiber has a laxative effect and helps to cleanse the liver and gallbladder, which helps in the prevention of colic or stones in the gallbladder.
Remedies with oat bran for constipation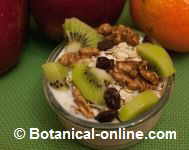 Photo of yogurt with muesli, a recipe very suitable for constipation. The properties of the fiber increase if they are combined with the probiotics of yogurt.
For the benefits of oats in the treatment of constipation, people with this problem are recommended to take one of the following remedies with oat bran:
The recommended amount of oat bran is 1 teaspoon of bran 3 times a day. Effective against chronic constipation and hemorrhoids. In case of chronic constipation it is recommended to accompany 2 yogurts a day, preferably bifidus type.
Mix equal parts oat bran with wheat bran. Take 1 teaspoon 3 times a day, with 1 good glass of water. Recommended in case of occasional constipation (occasional constipation situations, caused by changes in diet, strict diets, etc.)
Take 2 bifidus type yogurts a day, with 1 tablespoon of oat bran and accompany liquefied carrots. It is a very effective recipe for constipation and to regenerate damaged intestinal flora.
If what you want is to improve the health of the intestine in general, it is recommended to introduce oatmeal flakes usually in the diet, as well as eating a diet rich in tubers, legumes, cereals, vegetables and fruits. Add rolled oats in salads, yogurts (containing probiotics), muesli, desserts, cakes, soups, vegetable creams, purées, porridge, etc.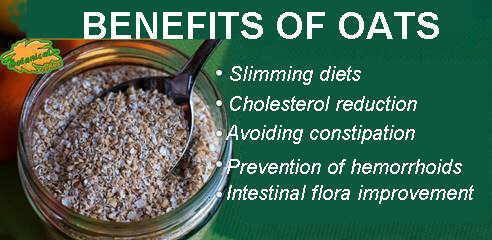 Some of the benefits of oats. Produced by © Botanical-online
Oat bran for intestinal flora, chronic constipation and intestinal diseases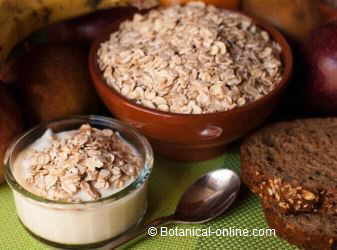 Oat flakes with yogurt, a good combination. The highly fermentable fiber of oats allows colonization of the probiotic bacteria provided by yogurt. (In case of constipation it is advisable to use oat bran instead of flakes)
Scientific studies have highlighted the potential of oat bran as a prebiotic food, because it promotes the growth of healthy bacteria in the intestine.
This property is important especially for people with a tendency to constipation or chronic constipation, due to the importance of the intestinal flora or microbiota in the care of the intestine and in the prevention of diseases.
It has been shown that oat bran increases the number of bacteria found in fecal material, because it contains highly fermentable fibers.
This indicates that the oat bran is adequate to help maintain a good intestinal flora, for example people who have just undergone antibiotic treatments, people with a lot of stress or with food intolerance problems.
These properties are increased when combining oats with yogurt or foods with probiotics, that is, foods that contain healthy bacteria to colonize the intestine and configure a healthy intestinal microbiota, which will protect the digestive membranes and stimulate the properties of the intestinal flora, between them, to increase defenses.
Precautions for the treatment of constipation with oat bran
Before using oatmeal remedies for constipation, the following warnings should be kept in mind:
You have to drink plenty of water along with the oat bran so that your fiber acts properly and avoid secondary problems that the ingestion of this supplement can cause (flatulence, belly swelling, flatulence or even intestinal occlusions). At least a couple of liters of water per day.
The amount of fiber needed for constipation may vary depending on the person. It is recommended to start with small doses of oat bran so that the organism becomes accustomed.
Oat bran is recommended for people with constipation. Another option would be oat flakes: The larger the size of the flakes, the more laxative they will be.


More information on oats.
This article was endorsed by
Elisenda Carballido
- Dietitian nutritionist. Postgraduate in Phytotherapy and master in Nutrition and Metabolism.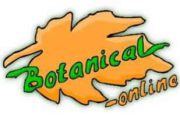 Written by
Editorial
Botanical-online team in charge of content writing