CONSEQUENCES OF CASSIA PREPARATIONS
What are the properties of cassia?
Senna (Cassia acutifolia) is a plant native to India, Pakistan and China, which has been used since ancient times as a laxative remedy.
* Stimulant laxative: this plant is one of the most popular natural remedies against occasional constipation, which can be purchased without a prescription.
The plant contains anthraquinone components which stimulate the muscular walls that surround the intestines and promote their movement and fecal excretion.
However, their side effects limit its use because it does not solve the chronic constipation and can be habit forming.
The fruits of sin have a milder effect than the leaves.
The laxative effect of Senna takes 4-12 hours action.
Senna should not be used to treat chronic constipation because it aggravates it . You should consult other laxatives supplements.
* Laxative for medical uses: A a strong laxative, senna has been used to cleanse the bowel before diagnostic tests such as colonoscopies.
Side effects of senna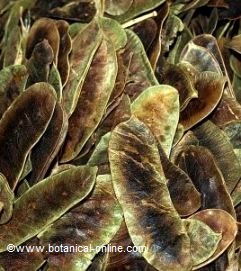 Senna fruits
It is not recommended to take Senna as a first choice laxative, as it may cause side effects. You should start treating constipation taking a diet for constipation, with regular exercise, high-fiber foods and good hydration.
* More information: Laxative supplements.
Intestinal disorders: long treatments deplete the intestinal flora, as its alkaloids are a strong antiseptic and destroy healthy gut bacteria. This can cause digestive problems, such as flatulence, bloating of stomach and malabsorption of nutrients.
Diarrhea: Even at moderate doses senna can cause abdominal pain, flatulence, cramps and diarrhea. To reduce cramping, intestinal gas and discomfort, it can be combined with anise or fennel.
Dependence of colon: The continued use of senna laxative causes colon dependence. Because it causes contractions, the muscle loses its tone to the point that the bowel can lose its natural functions.
Malabsorption of nutrients: the quicker stool evacuation causes intestinal absorption of food to be diminished.. Thus, evacuated faeces still contain nutrients, such as fats, vitamins or minerals, that have not been absorbed.
Because of this, senna has been used as a slimming remedy for its purgative effect, since it slows digestion of dietary calories.
Contact dermatitis when in contact with the fresh plant, it can cause dermatitis
What is the dose of senna?
Senna is a strong stimulant laxative, so it is contraindicated for chronic constipation. We recommend starting with mild laxatives or lubricant laxatives (oils and glycerin suppositories). If you need a strong laxative, take cascara, which has the same effect as this plant but it is less intense.
Like any stimulant laxative, senna treatment should be limited . Use 7-10 days or only occasionaly, always under medical consultation.
– Capsules: doses of 20 to 40mg. of sennosides. Due to different concentrations, follow package directions.


More information on cassia.
This article was endorsed by
Elisenda Carballido
- Dietitian nutritionist. Postgraduate in Phytotherapy and master in Nutrition and Metabolism.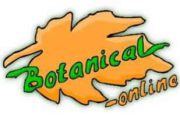 Written by
Editorial
Botanical-online team in charge of content writing