Toxicity of mustard remedies
DANGERS OF MUSTARD
Is mustard toxic?
Common mustard (Brassica nigra) is not a toxic plant when consumed in the recommended amounts, although it can cause side effects.
The danger of these substances is due to its rubefacient very irritating effects: just 1 drop of essential oil of mustard on the skin can produce a severe burn.
What toxic components have mustard?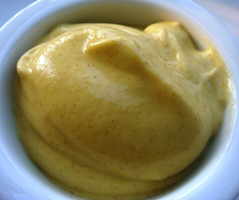 Photo of Dijon mustard
The main toxic components in mustard are glucosinolates in mustard essential oil, also present in its seeds and leaves:
Alilsenevol or allyl isothiocyanate: most abundant substance in the essential oil. It is formed in the mustard seeds when mixed with water (or saliva), by action of the enzyme myrosinase on sinigrin.
It is the substance that gives the characteristic spicy and hot flavor to sauces and preparations with mustard.
SYMPTOMS OF POISONING WITH MUSTARD
External aplications – Topical use or skin
Skin irritation: produced by glucosinolates present in the plant essence. It is manifested by redness and pain in the skin. (See contact dermatitis)
Burns and blisters on the skin: flushing produced by mustard can cause skin burns and blisters. Blisters can be very painful, and both reactions occur especially when the remedy has been applied for too long a time (over 15 minutes). In sensitive skin, blisters may appear even 5 minutes after the application of poultice.
Necrosis: In some cases, poisoning with mustard essential oil may cause necrosis.
Internal applications – Taking mustard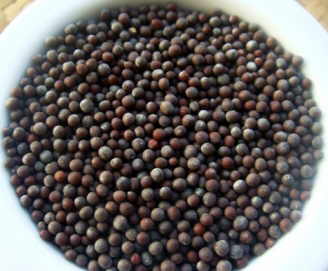 Picture of grains of black mustard (Brassica nigra)
Vomiting: It is the first symptom that occurs almost immediately when mustard is ingested. Mustard components overstimulate gastric nerve, causing severe vomiting almost immediately after ingestion.Formerly this property was used to purge, although it becomes such a very irritating remedy that it is not recommended.
Loss of sensation in the mouth
Irritation and inflammation of the intestinal tract: Excess of mustard intake can cause irritation of the digestive tissues of the esophagus, stomach and intestines, inflaming the mucous membranes.This can result in severe diarrhea episodes: esophagitis, gastritis. In some cases, the stomach can lose its physiological activity.
Inflammation of the urinary tract: Characterized by tenesmus (continued desire and difficulty urinating).
Abortion: Mustard plant may be an abortive when consumed in large quantities.
Seizures leading to cardiorespiratory collapse.
Mustard in pregnancy and lactation
Mustard consumption is NOT recommended during pregnancy and lactation.
Pregnant or lactating women should avoid remedies with mustard. This recommendation is due to the action of glucosinolates. These components are abortifacient and can be transmitted through breast milk to the baby.
Because glucosinolates have antithyroid and goitrogenic activity, they can cause thyroid problems to the baby.
Glucosinolates can affect the functioning of the thyroid gland of children and people with hypothyroidism, but these effects have not been shown on healthy adults.
Children under 6 years should not take medicines with mustard.
Precautions before using remedies with Mustard
Allergic people to components of mustard and cruciferous plants:. They must first ask the doctor if they have any allergies to cruciferous plants before starting treatment. Some known plants of this family are arugula, broccoli or cabbage. The use of these plants in people who are allergic can cause anaphylaxis.
Use of medication doses indicated in "Mustard seed properties" section in the top list of this page. Exceeding the dose of mustard can cause toxicity and unwanted effects.
Read the contraindications of mustard.
Do not apply topical remedies in the face, wounds, bruises, burns, blisters, rashes or delicate skin areas.
Do not exceed the recommended time when applying poultices. Because of the irritating nature of its components, avoid poultices or external applications with mustard to last longer than 15 minutes
Space treatments. Mustard plasters should not be performed too often and should not be perpetuated for many days.
Do not apply the essential oil of mustard in friction treatments, as it may cause serious skin lesions.
Mustard should be taken in small quantities. You should not eat those mustard quantities exceeding half a teaspoon.
Do not inhale the essential oil of mustard or its flour because it is irritating to the respiratory tract
* Related information: Side-effects of mustard


More information on mustard.
This article was endorsed by
Vicente Martínez Centelles
- Founder of the web and director. Teacher of natural sciences, expert in plants, natural remedies and botanical photography.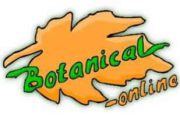 Written by
Editorial
Botanical-online team in charge of content writing