Are oats good for cholesterol?
BENEFITS OF OAT FIBER FOR NATURAL CHOLESTEROL TREATMENT
Taking oatmeal daily reduces cholesterol
Oats (Avena sativa) is one of the most highfiber cereals. Among the benefits of fiber is its role in reducing cholesterol, which has been shown in numerous studies.
Fiber from foods such as oats has an intestinal brush effect, capturing cholesterol and bile juices in the intestine,, preventing it from being absorbed.
In this way, taking oat bran usually reduces cholesterol, by preventing it from being absorbed in the intestine. This property is due to the presence of insoluble fibers and betaglucans, a soluble fiber.
In a scientific study it was shown that the daily intake of 3 grams of betaglucans (about 3 servings of oat flakes) significantly reduced bad cholesterol (LDL cholesterol) in as little as 4 weeks.
Benefits of lowering cholesterol with oats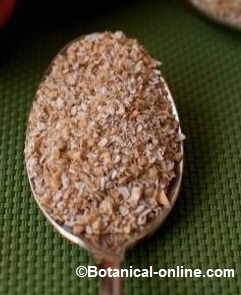 Photo of a spoon full of oat bran. Approximately, 1 tablespoon contains 24 kcal., 6g. of carbohydrates and 2 g. of proteins.
Natural cholesterol treatment can be tackled with a multitude of plant products that have properties to reduce cholesterol.
Among them, oat bran is one of the most economical fiber supplements, with more benefits and fewer contraindications that can be purchased.
What are the advantages of oats to lower cholesterol?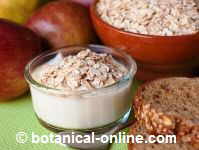 Photo of yogurt with oat flakes and whole wheat bread with oat flakes.
Among the benefits of oats, we will include:
Oats reduce cholesterol better than other fibers, due to their content in beta glucans, a fiber capable of reducing cholesterol by preventing its intestinal absorption. Scientific studies have shown that regular consumption of oat fiber (oat bran) helps to satisfactorily control cholesterol levels.
Scientific studies have observed how consuming oat bran daily improved hypertension and reduced high triglycerides.
Oats avoid health problems associated with high cholesterol, such as plaque formation in the arteries and poor circulation.
Reducing cholesterol helps prevent the formation of gallstones and the onset of colic. Taking oatmeal is also highly recommended for people with cholecystectomy (gallbladder removal).
Betaglucans, in addition to their cholesterollowering properties, have an antiirritant and calming effect on the digestive tract. They hydrate forming a very viscous gel that captures the acidic juices and mimates the mucous of the stomach and intestine. It is recommended for the treatment of heartburnor pain, ulcers and hemorrhoids.
Regulates intestinal transit and improves constipation.
Oat bran helps regenerate damaged intestinal flora.
Consuming good doses of fiber daily prevents colon cancer
Oatmeal remedies for cholesterol treatment
To attain the benefits of oats in cholesterol control and prevention of associated diseases people with this problem are recommended some of the following remedies with oats:
The recommended amount of oat bran to reduce cholesterol is 1 teaspoon bran 3 times a day, with 1 good glass of water.
If high cholesterol is presented with obesity, mix evenly oat bran with wheat bran. Take 1 teaspoon 3 times a day, with 1 glass of water.
The recommended amount of oat flakes to reduce cholesterol is 3 servings (40 grams equals 1 serving), 3 times a day. The flakes can be consumed in biscuits, breads, yogurt, salads, vegetable purees, soups, etc.
In case of intestinal problems (constipation, hemorrhoids, etc.) it is recommended to accompany 2 yogurts a day, preferably bifidus type.
Precautions for the treatment of cholesterol with oat bran
Before using oatmeal remedies for cholesterol, the following warnings should be kept in mind:
Drink plenty of water along with oat bran because it is rich in fiber. Fiber needs to be hydrated to have the desired effect for cholesterol and avoid intestinal problems like flatulence, belly swelling or even intestinal occlusions). Drink at least 2 liters of water a day.
Read the contraindications of oats, especially in case of intestinal diseases.


More information on oats.
This article was endorsed by
Elisenda Carballido
- Dietitian nutritionist. Postgraduate in Phytotherapy and master in Nutrition and Metabolism.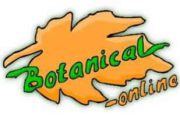 Written by
Editorial
Botanical-online team in charge of content writing