Traditional uses of raspberry
The raspberry plant has been used traditionally to cure many physical problems. China's traditional medicine used it as depurative of the kidneys and the liver. The habitual ingestion of this fruit would help to clean the urinary tract and would eliminate toxins of the liver and blood.
In oriental medicine it is believed that the fruits of raspberry, for its richness in iron, help to fight anemia and facilitate the expulsion of the fetus at childbirth. The green fruits are used to combat impotence and a remedy for the premature ejaculation.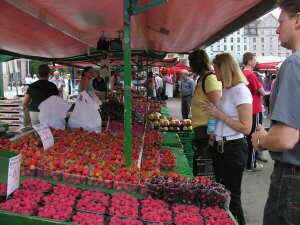 The consumption of berries is very abundant in the Nordic countries. Norway ranks second place in production of berries after strawberries and much higher than currants. The total production of berries in 2005 was 12,700 tonnes, while total production of other fruits, especially apples and cherries was a little over 13,000 tons. (Photo of Tromso market, with a booth for the sale of berries)
Raspberry leaves are rich in tannins
Due to their high amount of tannins (10%) the leaves of the raspberry have astringent properties that can be used internally to treat abnormalities such as diarrhea. (Infusion of 3 tablespoons of dried leaves per liter of water. Drink 3 or 4 cups per day)
The astringent properties of this plant can be used in the treatment of sore throat, tonsillitis, mouth sores, swollen gums, etc. (Decoction for 1 / 4 of an hour of 5 tablespoons of dried leaves per liter of water. Let stand 15 minutes. Make gargling or rinsing with the liquid)
Externally, the astringent properties of tannins and the vulnerary properties of ascorbic acid, benzoic acid and caffeic along with zinc, give this plant cicatrizant properties, suitable to remedy eczema, dermatitis, acne, itching in the skin, etc. (Decoction for 1 / 4 of an hour of 5 tablespoons of dried leaves per liter of water. Let stand 15 minutes. Apply the liquid on the affected zone)
In case of hemorrhoids, the previous decoction can be used to perform enemas. This same preparation can be used for the treatment of vaginal flow.
Raspberry leaves during the pregnancy
It has been found that the fruits of raspberry, with its rich in folic acid, help to avoid problems of poor training or improper growth in the baby. It is also believed that the ingestion of raspberry juice helps to expel the fetus at delivery.
The truth is that raspberry leaves have been used traditionally to improve the conditions of childbirth and pregnancy. It has been found, according to studies by Burn and Withell in 1941 and numerous subsequent studies that ferulic acid and magnesium help to relax the uterus after delivery. The infusion of a daily cup of raspberry leaves at a rate of one teaspoon per cup of water can reduce some unpleasant side effects of pregnancy such as nausea or bleeding gums.
It has also been found that, at the time of delivery, raspberry facilitates the work because it makes the uterine muscles work more efficiently. Comparative studies have shown that women using this remedy needed less assistance in the birth of their children (less cesarean or forceps delivery).
In postpartum periods, the use of these preparations may slow the bleeding, increase the production of milk and prepare women for future deliveries.
However, Some specialists believe that this is a very dangerous plant to be used during the first months of pregnancy. (See toxicity below)
A remedy for menstrual pains
The sedative, antispasmodic and utero-relaxant effects of raspberry leaves can be used for the treatment of menstrual cramps. (Take juice of raspberries obtained by pressing or centrifuging the ripe fruit. Dilute with water)
Harvesting and conservation
The leaves are harvested in summer, dried in the shade and stored in a fabric bag. The fruits are picked when ripe and eaten fresh.
Toxicity and contraindications of raspberries
The leaves, if they are not dried well, can ferment producing toxic substances.
The large amount of tannins in this plant does not make it suitable for people with gastritis or peptic ulcer. This plant can produce allergic reactions to some people.
Despite numerous studies on the use of this plant during pregnancy and breastfeeding, consult your doctor about using this product. We must be cautious in the early months of pregnancy because a very high or continued use of this plant stimulates contractions of the uterus, so it may cause an abortion.
Raspberry leaves contain much tannin, that, usually ingested, could cause constipation or could even be toxic by accumulation.


More information on raspberries.
This article was endorsed by
Elisenda Carballido
- Dietitian nutritionist. Postgraduate in Phytotherapy and master in Nutrition and Metabolism.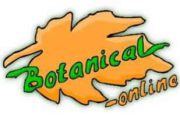 Written by
Editorial
Botanical-online team in charge of content writing