Celery recipes
GRAPES SALAD WITH CELERY
Ingredients of a celery salad for four people
Preparation of a celery salad
Wash the celery and boil it for 20 minutes. Let it cool.

Chop the nuts.

Remove the skin of the grapes and remove seeds.

Squeeze the lemon.

Place the lemon juice and two tablespoons of olive oil in a bowl.

Grate the celery and add it to the rest of l ingredients stirring them well. Add some salt..

Peel the apples and chop them. Add the apple slices, walnuts, grapes and stir them well.
Method of serving
Serve as a starter.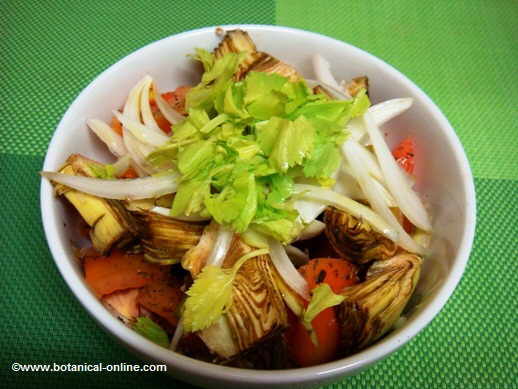 Photo of celery salad with tomatoes and onion
Other celery recipes
Celery salad with tomatoes and onion

More information about celery in the listing above
Other interesting articles
This material is for informational purposes only. In case of doubt, consult the doctor.
"Botanical" is not responsible for damages caused by self-medication.