GENTIAN WINE RECIPE
Gentian wine
Properties of gentian wine
Gentian wine is a bitter wine very famous for its digestive properties.
Ingredients:
- A litter of white sherry.
- 30 gr gentian root
Preparation:
- In a bottle, mix the wine with the gentian root.
- Leave to macerate in a warm, dark place from 8 to 10 days.
- After being macerated, strain it and keep in in a cool, shady place,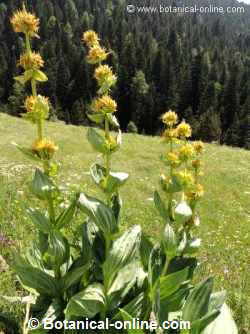 Gentian picture
Ways to serve
Take a little cup of this wine before two main meals.

More information on gentian and natural food in the listing above
Other interesting articles
This material is for informational purposes only. In case of doubt, consult the doctor.
"Botanical" is not responsible for damages caused by self-medication.