Goji berries infusion
Properties and recipe of goji berries tea
BENEFITS OF GOJI BERRY INFUSION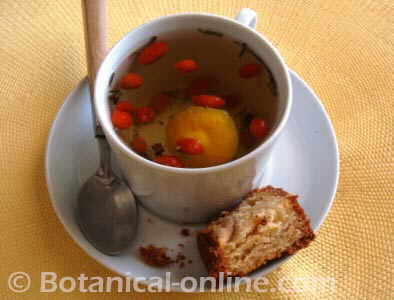 Goji berries tea with a bit of chocolate coulant sponge cake
Goji berry infusion ingredients
- Goji berries (one teaspoon of dessert per person, approximately)
- 4 cloves
- Lemon rind
- Rosemary
- Leaves of fresh lemon balm
Preparation of the goji berries
- Bring water to a boil.
- Prepare the ingredients: wash and cut the lemon and clean the lemon balm leaves
- When the water breaks to a boil, put out the fire, pour the ingredients and cover.
- Let stand for 10 minutes with a lid.
- Serve with a small piece of sponge cake or a few nuts.
Properties of goji berries tea
It is a refreshing infusion for its aroma of lemon and lemon balm, with the nuance of clove and rosemary. It can also be combined with thyme, sage, maliloto, etc.
In addition, it brings us joy in the kitchen due to the bright colors it contains: yellow, green, red.

More information on goji berries on the listing above
Other interesting articles
This material is for informational purposes only. In case of doubt, consult the doctor.
"Botanical" is not responsible for damages caused by self-medication.