How to use mustard
Mustard recipes
MUSTARD IN THE KITCHEN
Different mustard recipes
- Old style mustard sauce: also called "Moutarde à l'ancienne". Excellent Dijon mustard, made from whole mustard seeds.
- Traditional mustard sauce: Dijon mustard sauce with mashed seeds. Nice texture yellow sauce.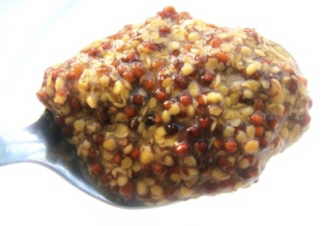 Traditional Dijon sauce with whole mustard seeds
- English or American mustard: Mild sauce prepared with white mustard (Sinapis alba), and other spices. Used to flavor the popular "hot dogs".
- Sweet mustard sauce: made from mustard seeds, salt, spices, acidifier, malt vinegar, honey, caramel and herbs.
- It can also be added to the vinaigrette sauce.
Entrees with mustard sauce
- Cleansing salad with arugula

More information on mustard in the listing above.
Other interesting articles
This material is for informational purposes only. In case of doubt, consult the doctor.
"Botanical" is not responsible for damages caused by self-medication.