Syrups characteristics
What is a syrup?
SYRUPS CHARACTERISTICS
What is a syrup?
A syrup is a medicinal preparation consisting on mixing 50% liquid from an infusion or decoction with 50 % brown sugar or honey.
How do you make a syrup?
Put half a liter of infusion or decoction with half a kilo of honey or sugar. Heat it and stir until the ingredients are thoroughly mixed.
How to use syrups?
The usual dose is set on one or two teaspoons two or three times daily.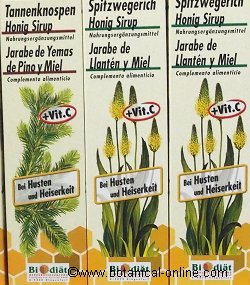 Plantain syrup with honey for flu
How to store syrups?
Once cool, a syrup is stored in a glass vial with no sealing plug that allows the output of the fermentation gases.
SOME VERY USED SYRUPS
Among the most commonly used syrups, we have, for example, the following:
- Blackcurrant syrup for varices
- Etc..

More information on medicinal plants in the listing above.
Other interesting articles
This material is for informational purposes only. In case of doubt, consult the doctor.
"Botanical" is not responsible for damages caused by self-medication.