What is a carambola plant?
Characteristics of carambola
Common English name: starfruit, five-corner fruit, carambola, golden star, foreign peach, star pickle.
– Spanish name: carambolera, carambolero (tree). The fruit is called: carambola, fruta estrella, balimbín, tiriguro, grosella carambola or fruta china.
Scientific name: Averrhoa carambola L.
Family: Oxalidaceae
Origin: fruit tree native of the Asian tropics. It is believed it comes from Indonesia.
Habitat: Tropical and subtropical climate plant. Carambola tolerates short periods of frost. It grows in full sun and tolerates flooding.
Distribution: tropical plant, spread over different regions of the tropics. The major global producers are Malaysia, Israel, southern China (Fujian, Kwangtung, Kwangsi), Thailand, India and the Philippines. It is also grown in Australia, South Pacific, Caribbean Islands, Central America, tropical Africa and in Florida (USA).
Carambola description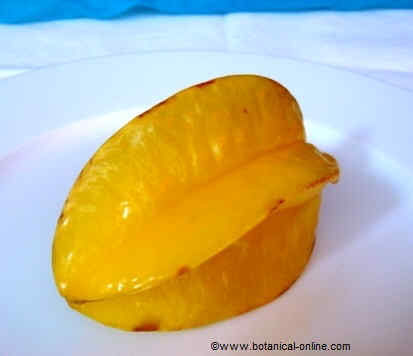 Photo of carambola or star fruit
Starfruit (carambola) is a perennial fruit tree, short and slow growing. In cold climates, the leaves may be deciduous.
Carambola trunk is short and highly branched, up to 6-10 m. tall.
Its leaves are large (15 – 20cm. long), alternate, ovate -elliptic, stalked, compound, imparipinnate, with 5-11 leaflets, and fine hairy on the underside.
The inflorescences are axillary panicles, which have small flowers, 4mm. in diameter, white or yellowish. They give off a pleasant aroma.
Fruits are ellipsoidal berries, with five longitudinal ribs or protrusions. They are about 6 – 12cm. long and 6cm. wide. With greenish skin when young, they turn yellow, hard, waxy and shiny when ripe.
The mesocarp or pulp is yellow, fleshy, sweet and sour taste. The fruit has few seeds inside. Fruits weight ranges between 100 and 200g. at maturity.
A cross-section of its fruits shows a star-shaped form with 5 peaks. Because of its aspect, it has become a very popular fruit.
Within the fruit, there are between 10 to 15 seeds.
Used parts
CARAMBOLA NUTRITIONAL INFORMATION
Nutritional composition of carambola per 100g.
Nutrient
Amount

Calories (kcal.)

33

Carbohydrates (g.)

7,83

Proteins (g.)

0,54

Fats (g.)

0,35

Fiber (g.)

2,70

Vitamin C (mg.)

21,20

Vitamin B1 or thiamin (mg.)

0,03

Vitamin B2 or riboflavin (mg.)

0,03

Vitamin B3 or niacin (mg.)

0,41

Vitamin B6 o pyridoxine (mg.)

0,10

Folates (mcg.)

14

Vitamin A (UI)

493

Vitamin E

0,37

Calcium (mg.)

4

Magnesium (mg.)

9

Phosphorus (mg.)

16

Sodium (mg.)

2

Potassium (mg.)

163

Iron (mg.)

0,26

Zinc (mg.)

0,11

Copper (mg.)

0,12

Selenium (mcg.)

0,60

Water (g.)

90,92
Uses of carambola
Food : Carambola fruit is consumed as food. Its taste is slightly sweet. It has gained popularity because of the starshaped slices you can make when you cut it.
Medicine : This fruit has medicinal uses as a hemostatic, to stop bleeding and to relieve bleeding hemorrhoids. These hemostatic properties are due to its high content of oxalic acid. In fact, carambola is one of the plants with a highest content. In Thailand, it is used as a diuretic, expectorant and antitussive.
Other uses: wood is reddish and is used to build furniture.
Composition of carambola or star fruit
Macronutrients: carambola fruit is rich in carbohydrates and fiber. It contains fats and proteins in smaller proportions.
Vitamins: Vitamin C, thiamine, riboflavin
Carotenoids: phytofluene mutatoxhantin, cryptoxanthin, cyanidin, beta cryptoflavin
Acids: Carambola is rich in fumaric acid, citric, malic, succinic and tartaric acid. It is also a plant containing most oxalic acid.
Organic acids: alpha keto glutaric acid, aspartic acid, sinapic acid.
Damascenones: beta damascenone, beta ionone. These components contribute to the aroma of the plant, and increase during cooking (they are derivatives of carotenoids).
Botanical classification


Kingdom

Plantae – Plants

Subkingdom

TracheobiontaVascular plants

Superdivision

SpermatophytaSeed plants

Division

MagnoliophytaFlower plants

Class

MagnoliopsidaDicotyledonous

Order

Oxalidales

Family

Oxalidaceae

Gender

Averrhoa

Species

A. carambola


More information about carambola.
This article was endorsed by
Julián Masats
- Technical agricultural engineer specialized in horticulture and gardening.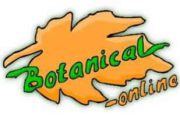 Written by
Editorial
Botanical-online team in charge of content writing