Benefits of chromium
Functions of chromium
Chromium is involved in the metabolism of carbohydrates, fats and proteins.
This mineral regulates the levels of sugar in the blood. It is necessary, therefore, for a proper action of insulin in the cells.
Chromium also has an anticoagulant action, so it prevents the formation of clots and prevents the onset of arteriosclerosis. Its fluidizing role in the blood exerts a control over the obstructions of the blood vessels, preventing the onset of very serious problems, such as angina, thrombosis, stroke, etc.
Chromium to improve diabetes
People with diabetes have been found to have more stable blood sugar levels when taking chromium supplements or eating chrome-rich foods such as apples, walnuts, barley, or broccoli. Among the animal foods that are richer in this mineral are beef or oysters.
Chromium for sport
Some athletes and sportmen take chromium supplements to increase muscle mass, decrease fat volume and achieve greater strength and performance in sport. This supplement is becoming more important due to bodybuilding.
However, most studies on this subject fail to demonstrate that chromium is effective for this purpose. By improving the use of energy, it is possible that chromium itself can improve the performance of sporting strength.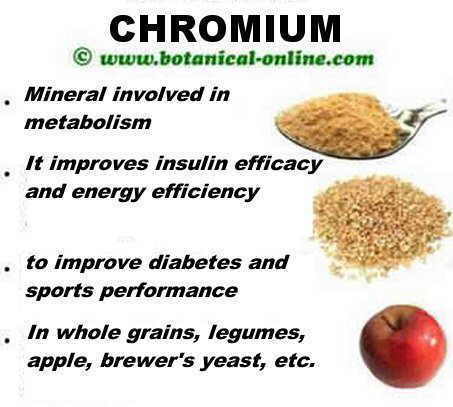 Main properties of chromium
Deficit or lack of chromium
Many studies confirm that the chromium levels of many people in the Western world are low so we should eat more chrome rich foods or take supplements containing it.
Incorporating brewers's yeast into our diet can benefit many people but especially those with diabetes. In addition, this nutritional supplement will help us have healthier skin, nails and hair.
A deficiency of chromium may be responsible for, for example, poor absorption of fats, proteins or hydrates that can lead to cholesterol problems or lead to thinning.
A protein deficiency can lead from growth problems to inability to heal wounds, fractures, strains or muscle tears.
It has been suggested that a chromium deficiency, among other factors, may be responsible for other less common abnormalities, such as peripheral neuropathy, a disease in which the nerves that carry information from the periphery of the organism to the brain are affected.
Peripheral neuropathy may present with symptoms such as pain or loss of sensation in the arms and legs; muscle weakness, digestion problems, heartburn, dizziness, urinary incontinence, impotence, vaginal dryness, etc.
Symptoms of Chromium Deficiency
The main symptoms that indicate a lack of chromium are the following:
– Weightloss
– Growth problems
– Type II Diabetes
– Cholesterol and triglycerides
– Cardiovascular problems
– Dysfunctions in the metabolism of fats, proteins and carbohydrates
– Lower lung capacity
– Lesions of the nerves of the periphery
Chromium Supplements
Chromium picolinate is a supplement that is used for the treatment of type 2 diabetes and even for type 1 diabetes.
Some specialists recommend taking this supplement in the treatment of high cholesterol. They also attribute to chromium the ability to lower cholesterol. Others, however, consider it ineffective in treating this disease.
Daily needs of chromium
The recommended daily amount of chromium is 25 – 35 mg / day. In the case of water consumed, the maximum level allowed is 0.05 mg / liter of chromium.
The following table shows the recommended doses of chromium according to the different ages:
Recommended daily dose of chromium in mcg (micrograms)

Infants from 0 to 6 months

0.2

Infants 7 to 12 months

5.5

Boys and girls from 1 to 3 years old

11

Boys and girls from 4 to 8 years old

15

Children from 9 to 13 years old

25

Girls from 9 to 13 years old

21

Men from 14 to 50 years old

35

Men over 50

31

Women 14 to 18 years old

24

Women aged 19-50

25

Women over 50

20

Recommended daily allowance of chromium in mcg (micrograms) for pregnant and lactating women

Pregnant women aged 14 to 18 years

29

Pregnant women aged 19-50

30

Nursing women aged 14-18

44

Nursing women aged 19-50

45
Special needs of chromium
In general, a varied diet provides the necessary amount of chromium. However there are a number of situations in which a deficiency of this mineral could occur:
Stress: Stress involves the reduction of levels of chromium.
Diabetes
Inadequate or very low calorie diets: An unhealthy diet, rich in simple carbohydrates or a weight loss diet may present a deficit of foods rich in this mineral.
Chromium to treat diseases
– There are not enough studies to show that the use of chromium supplements may be effective for the treatment of depression.
– There are not enough studies to show that the use of chromium supplements can achieve a significant reduction in body weight.
– There is no scientific evidence to show that the use of chromium supplements may be effective for the treatment of polycystic ovary syndrome.
Toxicity and side effects of chromium
An excess of chromium can produce negative reactions in the body that can manifest in the form of problems of liver, kidneys or disorders in the blood.
This supplement presents a number of important contraindications.
* More information: Chromium toxicity


More information on chromium and minerals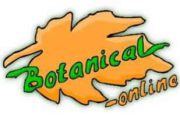 Written by
Editorial
Botanical-online team in charge of content writing