Nutritional properties of  blackberries
Blackberries are rich in vitamin C and betacarotenes
Blackberries are especially rich in vitamin C and beta-carotenes. The last ones, once ingested,are converted into vitamin A.
These two vitamins make this fruit a good antioxidant. Special attention must be made in the particularity that it is preferable to eat the fruits of the wild bushes because the levels of these vitamins in wild species are higher, and because the cultivated species often contain phytosanitary products, used in cultivation, that can be harmful to health.
It is therefore advised, whenever possible, to collect wild blackberries to have the best nutrient reserve. We dispose of this fruit from late August and, if weather conditions are suitable, we will possibly dispose of them until late October. Blackberries, once collected, should be eaten as soon as possible, so they do not rot and do not lose their vitamin content. When not possible, you'd better use the varieties grown from organic crops.
We should not pick berries found along the path to avoid the possibility that they may be contaminated. Anyway, wherever we collect them, we'd better clean them very well at home.
Blackberries contain a lot of flavonoids
Besides vitamin C and beta carotene, blackberries pulp is rich in bioflavonoids, which provide the dark black color of these fruits. All these components give very suitable properties for proper maintenance of body cells preventing the rapid oxidizing action of the free radicals.
Eating blueberries can help keep arteries in better shape, preventing cholesterol and arteriosclerosis. Vitamin C, plus antiscorbutic properties and antioxidants, together with bioflavonoids, helps produce more estrogens to decrease hotflushes, galling and excessive bleeding that occurs at menopause. These components are equally interesting in the maintenance of ocular health. Its use will help to improve vision and prevent degeneration of the eye, eye floaters, and so on.
We must not forget the role of flavonoids in cancer prevention. Moreover, this food contains a series of natural acids with anticancer properties (chlorogenic acid, ferulic acid, ursolic acid and malic acid). Flavonoids have also been highly praised because of their anti-inflammatory properties, being considered particularly suitable for the treatment of painful conditions such as arthritis.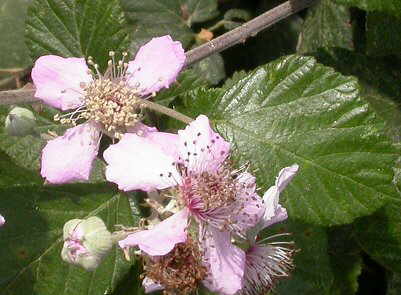 A detail of blackberry flowers
Blackberry, a fiber-rich fruit
Blackberries contain a very high amount of fiber, which can be very useful in the prevention of constipation and to help prevent obesity or for weight loss diets.. 100 gr. blackberries contain only 52 kcal and also are quite rich in potassium which helps to remove liquids.
Arbutin content also helps to provide diuretic properties together with potassium. Glucoside arbutin is a diuretic with antibacterial properties present in other plants such as grapes or cranberries, so preparations with these plants have been used traditionally for the treatment of urinary tract infections. Eating this fruit helps therefore to increase the level of urine expelled.
Blackberries favor digestion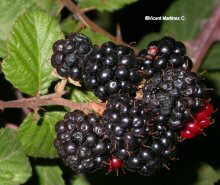 Photo of blackberries (fruits)
The richness in natural acids, mentioned above, stimulates the gallbladder and promotes better digestion of food.
Blackberries to keep the nervous system healthy
Blackberry contains many B vitamins, especially niacin, thiamin and riboflavin, which, among other functions, help to maintain the condition of the nerves in good condition. We should not underestimate its richness in manganese, an essential mineral necessary for the metabolism of many vitamins whose importance in the transmission of nerve impulses is crucial.
Also very important in the metabolism of proteins whose deficiency is responsible for diseases like paralysis, eye diseases and hearing loss.
Nutritional composition of fresh blackberries per 100 gr.
Composition of fresh blackberries per 100 gr.
Water

85, 64 gr.

Calories

52 Kcal

Fats

0, 39 gr.

Protein

0, 72 gr.

Carbohydrates

12, 7gr.

Fiber

5,6 gr.

Potassium

196 mg

Phosphorus

40 mg

Iron

0,57 mg

Sodium

0 mg

Magnesium

20 mg

Manganese

1,29 mg

Selenium

0,6 mg

Zinc

0,27 mg

Copper

0,14 mg

Calcium

32 mg

Vitamin C

21 mg

Vitamin E

0,71 mg

Vitamin A

165 UI

Vitamin B1 (Thiamin)

0, 030 mg.

Vitamin B2 (Riboflavin)

0, 40 mg

Folic acid

34 mg

Niacin

0, 40 mg


More information on blackberries
This article was endorsed by
Elisenda Carballido
- Dietitian nutritionist. Postgraduate in Phytotherapy and master in Nutrition and Metabolism.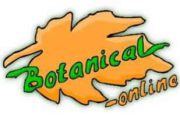 Written by
Editorial
Botanical-online team in charge of content writing