When should you avoid taking dandelion leaves or herbal preparations?
DANDELION CONTRAINDICATIONS
What are the dandelion contraindications?
Dandelion is not recommended for people with gallstones. The reason for this is that the dandelion is a major cholagogue. A cholagogue is a product that serves to stimulate the gallbladder by increasing bile production.
This principle, which is very suitable for people with stomach indigestion because of a "lazy stomach", can be counterproductive in people with gallstones. Stimulation of gallbladder can provoke a biliary colic.

Therefore, people with gallstones or obstruction of the bile ducts should not take dandelion as food. This also includes medicinal preparations with dandelion, such as capsules or tablets or other dandelion supplements.
Dandelion, as well as medicine or food, for its ability to increase gastric juice should not be given to people who suffer from heartburn or stomach ulcers.
Dandelion should not be given to people who are allergic to plants of the Compositae family.
Is dandelion also contraindicated for kidney stones?
Kidney stones are mainly caused by oxalates. Dandelion leaves contain many oxalates, so it should not be eaten as food by people with kidney stones.
However, the amount of oxalates that can be ingested by infusions of dandelion is too small to affect the kidneys.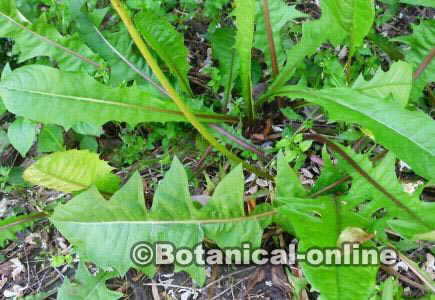 Photo of dandelion leaves
Is dandelion contraindicated during pregnancy?
Dandelion as food may be consumed in normal amounts during pregnancy. However, we must bear in mind that medicinal preparations with dandelion should not be taken during pregnancy because they are not proven to be safe for the fetus.
We must not forget that dandelion has hormonal properties, so women who are pregnant or wish to become pregnant should consult their doctor before taking this herb.
Is dandelion contraindicated during breastfeeding?
There is not enough information on using dandelion during lactation, so we must be prudent in its use.
Does dandelion have any drug interaction?
People taking lithium should NOT take dandelion. Dandelion prevents the removal of this component that accumulates in the blood causing physical problems.
People taking drugs to increase potassium in the body. These drugs along with dandelion, that is rich in potassium, may increase too much potassium levels in the blood.
People taking any medication: Dandelion may decrease the absorption of antibiotics. Dandelion may increase the effectiveness of some medications or alter their properties, so you should not take preparations of this plant without consulting your doctor or if you are taking any medication.
Beware of alcoholic dandelion preparations !
Some preparations with dandelion contain alcohol. These preparations should not be supplied to children or people who are in the process of leaving addiction to alcohol.
Beware of diuretic dandelion!
Dandelion is one of the most potent diuretics. An excessive water loss may lead to excessive loss of minerals such as potassium.
The use of this plant as a diuretic for the treatment of obesity or hypertension should be controlled by the physician or specialist. Inadequate treatment can lead to a blood pressure decompensation.


More information on dandelion.
This article was endorsed by
Vicente Martínez Centelles
- Founder of the web and director. Teacher of natural sciences, expert in plants, natural remedies and botanical photography.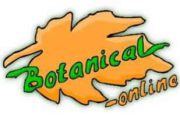 Written by
Editorial
Botanical-online team in charge of content writing