Herbal remedies for nerves
Phytoterapy.  Medicial plant preparations to calm your nerves
Today's society is so competitive that it subjects the individual to a state of constant stress. This produces a series of nervous system abnormalities. An ideal situation is one that manages to balance the tension – relaxation necessary to meet the social and personal challenges without submerging people in continuous nervous disarray.
The primary role of phytotherapy in the nervous system control is based on plants with the following properties:
Tranquilizing plants, able to manage the stress
Tonic plants to tone our nerves and relax the nervous excitement.
Herbal preparations to treat nervousness
The main plants used to combat diseases of the nerves are:
Passion flower for nerve remedies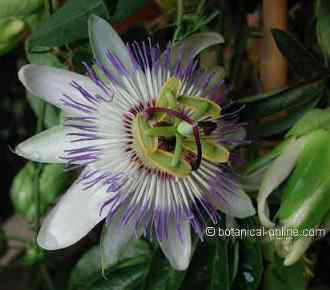 Passionflower (Passiflora caeurulea) is especially interesting when the situation of unrest does not let us sleep and suffer from insomnia.
It can be used with children or elderly people, even with prolonged treatment, allowing them to rest better at night.
Very profitable to help those who are following a treatment for depression or have a tendency to be sad or dejected, in situations like the recent loss of a job, death of a dear one, nerve problems associated with menopause.
Also very useful to calm nerves in situations where work demands force us to face a stressful situation exhibitions before the public, examinations, etc.
How to use passionflower to treat nervous problems?
You can use one of the following preparations
Infusion of a couple of teaspoons of the dried plant in half a liter of water. Drink a couple of small cups a day.
Maceration the desired quantity of dried plant with the same amount of alcohol for a week. Filter and take a 25 drops per day
Hawthorn to treat nervous diseases
Hawthorn (Crataegus oxycantha, C monogyna) is Particularly interesting for sleeping and for anxious situations
How to take it?
Infusion of a spoonful of dried flowers per cup of water. Take a couple of cups a day
There are supplements in pharmacies and herbalists' of this plant in combination with others remedies such as passionflower or valerian. Take them according to the patient information leaflet)
Ginseng to give strengh to your nervous system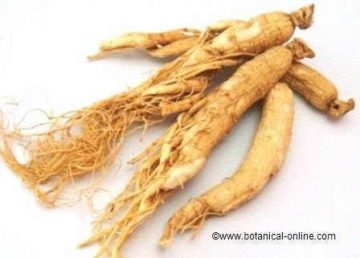 Korean ginseng (Panax ginseng), Siberian ginseng (Eleutherococcus senticocus) and American ginseng (Panax quinquefolium) are widely used to treat both depression and reduce personal stress state.
They are natural strengtheners of the nervous system.
How to take them?
Take capsules  according to the patient information leaflet. On sale on pharmacies and herbalists
See contraindications and toxicity in the general study of each plant
Other preparations with medicinal plants for nerve problems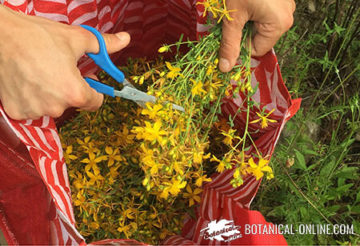 St. John's wort, Hypericum (Hyperycum perforatum) A long-term use – between about 4 and 6 months – makes it a refreshing tonic of the nervous system, especially useful in the treatment of depression. (One teaspoon of crushed flowers per cup of water. 2 cups a day) (View contraindications.)
Borage (Borago officinalis) To balance the excess of adrenal hormones that occurs in a stress situation (Infusion of a spoonful of dried leaves per cup of water. Take a couple of glasses a day)
Angelica (Angelica archangelica)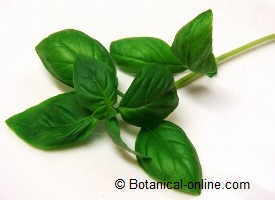 Basil (Ocimum basilicum) It strengthens the nervous system and soothes their adverse events in the stomach. (Infusion of a teaspoon of dried leaves per cup of water. Take a couple of cups a day after meals. If we increase the dose it has narcotic properties.)
Tarragon: (Artemisia dracunculus) Tarragon contains sedative flavorings such as methyl eugenol and limonene. This plant is also an important source of apigenin, a type of flavonoid with demonstrated sedative properties. (5g infusion of dried leaves in 200ml of water. Two cups a day).)
Anise: (Pimpinella anisum) The infusion of the fruits of this plant would help to feel us calmer (Infusion of a teaspoon of dried fruits by water cup. Drink a pair of cups per day)
Celery (Apium graveolens) It has a calming effect on nerves (Decoction of 30 g of dried root per liter of water. Take a couple of glasses a day.)
Dog rose (Rosa canina) It is used to calm the nervous system when it manifests itself mainly in stomach problems (Infusion of a spoonful of dried flowers per cup of water. Take 2 glasses per day)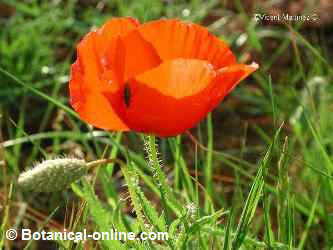 Poppy (Papaver rhoeas) Poppy can help calm down jangled nerves. Just make a tea with half a teaspoon of the petals of this plant for a cup of water. We'll drink a couple of cups each day, trying to drink the second one just before bedtime. They can be sweetened with a little honey.
Hops(Humulus lupulus) It is is a good sedative to calm nerves and excessive sexual desire. (Infusion of a spoonful of dried flowers per cup of water)
Lemon Balm (Melissa officinalis) It is very useful for all kinds of nervous disorders (Infusion of a pinch of dried leaves in a glass of water for 1 / 4 hour. (3 glasses per day)
Honeysuckle (Lonicera caprifolium) Honeysuckle has sedative properties that can be used to treat nerves and arrhythmias that have a nervous origin. (Infusion of a spoonful of dried flowers per cup of water. Take a couple of cups a day)
Linden (Tilia europaea, T. platyphylos, T. cordata) One of the most used remedies against "nerve problems" (Infusion of half a teaspoon of dried flowers per cup of water. Take 3 or 4 glasses a day, depending on your personal condition.
Two fruits with sedative properties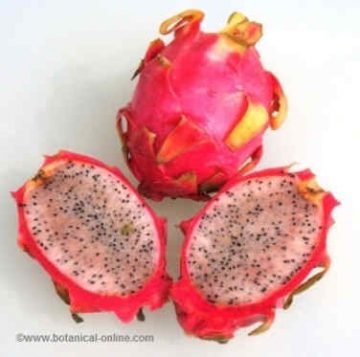 Dragon fruit: Because of its richness in captine, eating pitahaya is suitable for your nervous system.
Jackfruit (Artocarpus heterophyllus) Having a lot of thiamin and niacin, it is an energy food suitable when physical or mental fatigue, stress, muscle weakness, and for athletes. (Eat this fruit)
Supplements for nervousness
Brewer's yeast: Brewer's yeast can be very helpful during periods of nervousness. Its content in vitamin B makes it very suitable to help the nervous system to recover from stress, anxiety or even depression.

More information about nerve remedies its natural treatment.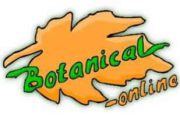 Written by
Editorial
Botanical-online team in charge of content writing