What is coconut palm used for?
Coconut tree is a palm tree that has great qualities for being widely used. Since ancient tropical civilizations it has been used for the manufacture of their homes, boats, as a beverage, food and as a cosmetic. New properties have been recently rediscovered when consuming it.
To illustrate the importance of coconut, we can mention that in Sanskrit, coconut is called "kalpa vriksha", which means "the tree that has all the necessities for the man."
In fact, coconut is regarded as one of the 10 most useful trees for humanity, and it is the most widely cultivated palm
Coconut palm industrial and home-made products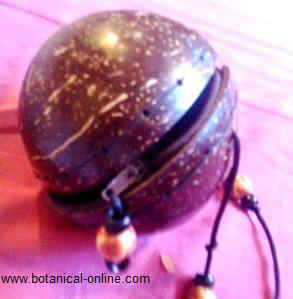 In the picture: hand-made bag manufactured
from a coconut seed.
The stipe (stem) of the palm is used to make beams for the houses. In English this type of wood is called "porcupine wood". It has a nice dark color and sometimes it is used to make small canoes.
The palm leaves can be seed in fences and roofs for houses. Often pinnate leaves are woven for clothes or decoration.
The shell of the fruit is hard and it is used to make handicrafts and vases.
The fibers (mesocarp) enveloping the fruit, when ripe, are used for the manufacture of carpets, ropes, etc.
Soap : Coconut possesses saponifiable properties, that make it useful for soap manufacture.
Varnish: Formerly, the Indians used the soot extracted from coconut to varnish their black hats.
Coconut palm food products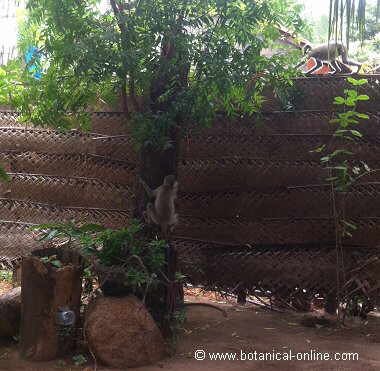 Fence made with coconut palm leaves,surrounding a house. There is a monkey climbing on it.
Palm hearts: the young stems are used as food, popularly known as palm and traditionally used in salads or as an aperitif.
Coconut water: the liquid inside the fruit of the coconut palm (coconut), has proven to be highly rich in vitamins and minerals. The native population has drunk since ancient times, and now coconut water has become a very popular drink in the United States and the United Kingdom. It has also been studied the coconut water content in phytohormones, which may influence the growth of other plants.
Coconut water is the liquid water content of coconut endosperm, which is collected during the period of immaturity of the fruit. When the fruit ripens, this fluid accumulates and extracted fats called coconut cream or milk.
The seed pulp is eaten fresh as a fruit. It is also used in desserts or ice cream. Desiccated coconut pulp is consumed as dry fruit, flaked, etc.. The dewatered pulp is termed copra.
Copra or dried pulp: used to decorate pastries or marketed as a snack.
Coconut milk or Santan: and coconut water is the water content of immature coconuts, coconut milk is extracted from ripe fruit, when fat accumulates and forms the endosperm or pulp. The crushed pulp is called coconut milk.
Coconut oil is extracted from copra or dried pulp. Coconut oil has many cosmetic applications, and in some regions is used for cooking. The composition of coconut oil contains mostly saturated fatty acids, which give very heavy physical properties, being a solid vegetable oil. Copra residues after oil extraction are used for fodder.
It is a honey plant. Bees can make honey from the nectar of its flowers.
The terminal axis of the inflorescence is bled for a sugary liquid called arrack. This liquid is used in alcoholic preparations, vinegar, honey and sugar for.
Coconut sugar is a type of sugar not very well known. It is obtained from the sap of the flower buds of the coconut palm, from which a syrup called arrack is extracted. This is refined to obtained sugar.
* More information: Coconut recipes


More information on coconut.
This article was endorsed by
Elisenda Carballido
- Dietitian nutritionist. Postgraduate in Phytotherapy and master in Nutrition and Metabolism.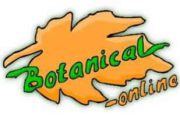 Written by
Editorial
Botanical-online team in charge of content writing