Benefits of seaweed pate with almonds and parsley
Health properties of sea-weed pate
VEGETABLE PATE WITH ALGA ARAME
How is algae pâté prepared?
Algae pâté is a vegetarian recipe rich in minerals. This recipe has been prepared with toasted almonds, algae, fresh parsley, garlic and olive oil.
The result obtained is a creamy vegetable pate, crunchy, with a fresh and spicy flavor.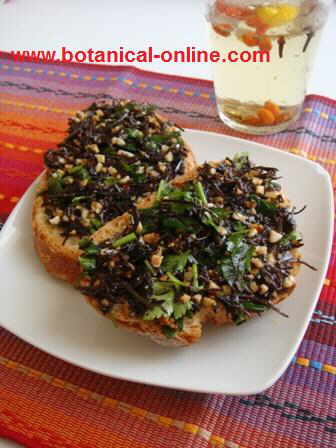 Arame seaweed pate with toasted almonds, parsley and olive oil.
Benefits of eating seaweed
Although there is no tradition of cooking with seaweed in many villages, the truth is these sea vegetables provide lots of fiber and minerals and also its cultivation is very sustainable. For these reasons, it is interesting to introduce them in food.
It is recommended to eat algae primarily to enrich the diet in minerals. These vegetables contain lots include greater focus on nutrients that terrestrial vegetables. In this regard, they can be recommended for weight loss diets and diets that recommend increasing calcium, magnesium and potassium (Menopause, osteoporosis, heart disease, hypertension, cholesterol, cellulite, gout,,…)
Just consuming them in small quantities, algae provide many minerals. No need to eat more than 1 serving of seaweed a day, nor eat them daily.
Algae are also interesting for athletes, who will help replenish the loss of minerals in sport, produced by wear and perspiration.
To these properties it must be added its richness in calcium. Algae are the most rich in calcium, being one of the richest food sources of this mineral.
What algae are used to prepare this pate?
There are many types of algae. The most recommended algae to prepare a vegetable pate are arame, wakame, sea spaghetti, dulse, seaweed, nori or Irish moss.
Hiziki algae are generally not recommended because they contains arsenic.
To prepare a seaweed pâté many different ingredients can be used. It can be mixed with pureed lentils, chickpeas, tahini, mushrooms, etc.
Ingredients for seaweed pâté
– Algae arame. In this case arame algae has been used because of its more neutral taste. Also suitable aforementioned algae.
– Roasted unsalted almonds without frying
– A few sprigs of fresh parsley (you can use other fresh herbs like basil, cilantro,…)
– Olive oil macerarated with crushed garlic. You can also use other unrefined vegetable oil, such as sunflower oil or sesame oil, preferably cold-pressed.
Preparation
– Put water to boil. When the water starts to boil, add the algae, reduce heat and simmer for 10 minutes.
– Drain and mash the algae with the help of a knife. The finer we cat it, the better texture of pâté we will get.
– Wash and cut the parsley thin.
– Toast the almonds and grind them: It is recommended to hydrate overnight and then to roast them in the pan or in the oven. Soaking previously will swell and remain much more tasty and crunchy. It also increases the digestibility of almonds (soaking reduces phytate and antinutrients).
– Mix all ingredients: chopped parsley, finely chopped seaweed, toasted almonds.
– Add oil in the amount needed, depending on the texture to be obtained. You can also add a few drops of lemon, which will help retain nutrients of pâté better.
Seaweed pâté can be eaten within a sandwich, or as a starter, with some toast. It can also be used to garnish boiled vegetables, rice salad, etc. Just the taste of parsley and crunchy almonds. Delicious and healthy!
Attention! Contraindications of algae pâté
With this kind of preparation you can ingest a large amount of iodine, since algae are rich in this mineral. It is not recommended to eat a lot of seaweed every day. The most recommended is a balanced diet that includes them in a healthy way (1 to 4 times a week, for example).
Recommendations on algae consumption will depend on the overall diet. Generally it is not recommended to combine algae with very iodine-rich foods, such as iodized salt or fish.
It is not recommended for people with hyperthyroidism to to eat a lot of iodine. They should not eat algae.


More information on constipation recipes and treatment
This article was endorsed by
Elisenda Carballido
- Dietitian nutritionist. Postgraduate in Phytotherapy and master in Nutrition and Metabolism.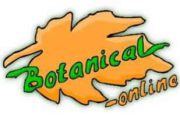 Written by
Editorial
Botanical-online team in charge of content writing