STAR ANISE IN THE KITCHEN
What is star anise?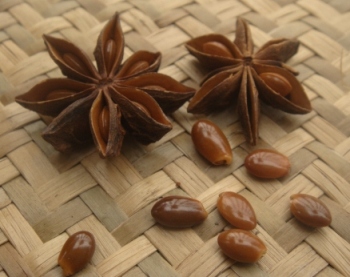 Star anise (Illicium verum) is an attractive aromatic spice, with star-shaped fruits, which is used in the kitchen to make sweets or to prepare spice blends.
These peculiar star-shaped fruits share their name with green anise (Pimpinella anisum) because both plants are rich in anethole, a component responsible for its aroma and properties.
Star anise plant is known as badianero, badian or badiana of China (Illicium verum), in reference to its geographical origin.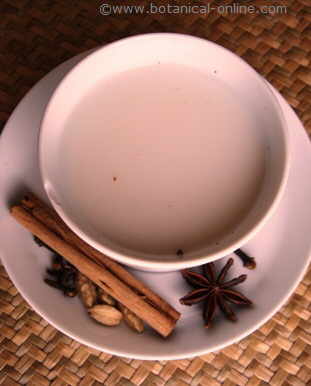 In the image: Chai tea with star anise, cardamom, clove and cinnamon on branch.
What flavor does star anise have?
Star anise has an intense sweet taste and aniseed aroma.
Because its intense flavor, this spice must be consumed in few quantities. Special care should also be taken because overdose of star anise can cause poisoning.
* More information on the Hazards of Star Anise in the below listing.
What is star anise good for?
Appetizer and eupeptic: Star anise stimulates stomach secretions and encourages digestion, especially recommended for people with hypoechoic dyspepsia (lack of stomach acids) and to remedy the loss of appetite.
Against flatulence: It favors the expulsion of gases from the digestive system and reduces abdominal swelling. It is used against aerophagia and flatulence or meteorism.
Stimulant: Traditionally used as a stimulant.
* More information about the medicinal properties of star anise in the below listing.
Star anise in food – Star anise recipes
– It is a regular seasoning in Asian spice blends. We can find it in the traditional Mix of spices Garam Massala and in the mixture of Five Chinese spices, instead of fennel.
– In the Vietnamese kitchen, prepare Phó noodle soup, where the star anise brings all its aroma.
– Some areas of India use it to make Biryani rice.
– It is part of the essential ingredients to prepare fragrant Chai tea.
– It is used in pastry and biscuits as a flavoring for sweet preparations. For example, some people use it in the popular Donut Recipe with cardamom, replacing cardamom with star anise.
Where to buy star anise?
– Star anise is an aromatic spice difficult to find in supermarkets in the West because it is not usually consumed in food.
– Generally, we can find star anise in Hindu or Oriental supermarkets, and in herbalists.
– In stores of aromatic spices in bulk.
Conservation of star anise
Star anise should be kept in a well-sealed glass jar and in a cool, dry place, sheltered from light.
Special precautions when buying star anise
Star Anise or Badiam of China (Illicium verum) can be adulterated with false star anise or Japanese star anise or Shikimi (Illicium religiosum = Illicium anisatum). Japanese star anise is a toxic plant, that has been responsible for numerous intoxications to infants, taking infusions from this plant to combat meteorism.
Do not combine star anise with the consumption of alcoholic beverages. Alcoholic beverages prepared with star anise can cause poisoning.
Star anise should NOT be administered during pregnancy and lactation.


More information on star anise
This article was endorsed by
Elisenda Carballido
- Dietitian nutritionist. Postgraduate in Phytotherapy and master in Nutrition and Metabolism.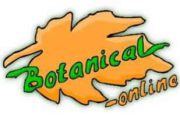 Written by
Editorial
Botanical-online team in charge of content writing