Daily meals for children
DAILY MEALS FOR CHILDREN
How many meals we should do every day?
Man is a very curious animal: hardworking, creative, artist, musician, athlete, cheerful, intellectual... Inside the Man many more features are being developed: how to think, to digest or grow.
Therefore, the human being is an animal with a nutrition as complete as their activities.
The nutrition science tells us that we must eat cereals and legumes every day to regain energy and good thinking; milk to grow strong bones; meat, rich in iron, for the muscles and blood; fish with containing iodine to grow better; vegetables to attain a beautiful skin, a healthy hair and a strong heart. We should not forget the sweet fruits, because they are rich in vitamins to think.
But, how do you take all these foods in a nice manner during the day? So there is dietetics
What is dietetics?
Dietetics is the science that organizes meals (diet) in a harmonious and orderly way so that we can make eating a delicious and healthy process.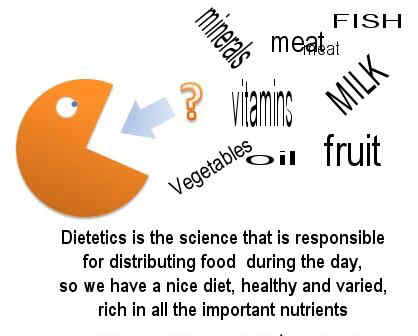 Dietary experts tell us to do at least 5 meals a day to ensure a full nutrition, rich in vitamins and minerals that help us to fully develop, grow and study:
According to dietetics, we should eat five times a day: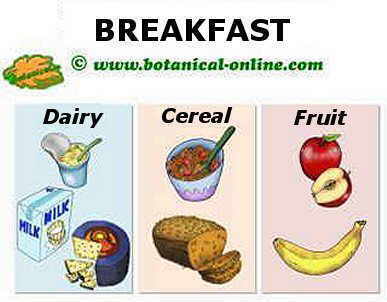 Breakfast foods
• Breakfast: Our body has been fasting all night, working to get energy from body reserves.
We should have a good breakfast to wake up the brain and prepare the body, because, otherwise, our body will be hungry all morning and it will difficult for us to concentrate, to study, and to be attentive in class.
It is been proved that students, who have breakfast every morning, are able to study better and easier. They do not need to make such a big effort as those who do not have breakfast every morning. (more information)
• Mid morning snack: A mid morning snack guarantees you to maintain your body energy till lunch time.
• Lunch: It has to be the main source of energy and nutrients for the day. Meals are needed to be complete. (more information)
• Mid-afternoon snack: An light snack in the afternoon is important for maintaining energy during the afternoon and to play, to do your homework, to study or to play sports at peak performance. (more information)
• Dinner: Dinner has to be able to keep your body working while you are sleeping. It needs to be quite a light meal.(more information)
To remember
- We must have 5 meals: breakfast, mid morning, lunch, mid afternoon snack and dinner.
- Our diet should be varied, healthy and funny: we should take pleasure in eating well.
* A practical case: Diet for strong bones

More information about nutrition in the listing above
Other interesting articles
This material is for informational purposes only. In case of doubt, consult the doctor.
"Botanical" is not responsible for damages caused by self-medication.