Horchata properties
TIGER NUTS RECIPES
HORCHATA RECIPE
Ingredients for 1 liter of horchata
- 250g. dried tiger nuts, we can purchase in local markets or in stores nuts.- 200g. sugar
- 1 liter of cold water
- Optional: cinnamon, lemon, vanilla.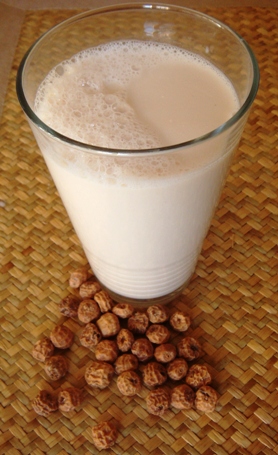 Horchata and tiger nuts
Preparation
- Wash dried tiger nuts repeatedly to remove residual impurities and soil that may contain.
- Soak the tiger nuts for 24-48 hours, changing the water several times.
- Drain them and place in a bowl for crushing with the blender, food processor, etc..
- Crush the the tiger nuts in a bowl with 1 liter of cold water.
- Strain with the help of a Chinese or fine strainer.
- Mix sugar and cool to 1 º C, because otherwise natural ferments can begin to act altering the flavor.
Properties of horchata
Horchata is a refreshing and restorative drink, suitable in any balanced diet. This drink is made from tiger nuts, a tuber rich in starches (40%), fats (30%) and vitamin E.
This drink, which is also suitable for coeliacs, is recommended for people with great physical, for sportsmen or people who require an input of energy and minerals.
It has no caffeine, taurine and other stimulants, and it contains no gas (carbonated drinks), so it is recommended as a healthy and refreshing drink in the diet of children, pregnant women, the elderly and people with osteoporosis should avoid drinks with gas.
However, this recipe should be moderate in people with obesity and diabetes, as it is very rich in fat and natural starches from fruit, and added sugar.
* Related information: Mediterranean diet characteristics.

More information about Mediterranean diet.
Other interesting articles
This material is for informational purposes only. In case of doubt, consult the doctor.
"Botanical" is not responsible for damages caused by self-medication.