Orange cake with chocolate
Orange cake recipe
HOW TO PREPARE AN ORANGE CAKE, WITH CHOCOLATE AND COCONUT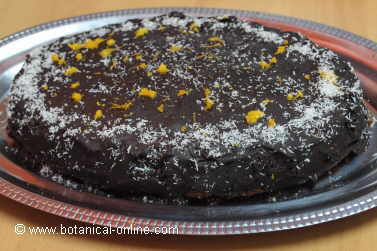 Photo of chocolate and orange cake.
Orange cake ingredients
- 200 ml of orange juice
- Grating of an orange.
- 4 eggs
- 200 g of sugar
- 1 sachet of baking powder
- 200 g flour
- 150 ml of olive oil
- 100 g of coconut
- 200 g of dark chocolate
Preparation - How to make an orange cake
- Reserve two tablespoons of coconut and some orange zest for the exterior decoration.
- Mix orange juice with sugar, oil and orange zest.
- Stir well.
- Beat the eggs. Add the coconut and pour everything to the previous mixture.
- Gradually add the flour together with the yeast in wrapping movements.
- Spread a mold with olive oil and pour over the previous mass.
- Place in the oven previously heated at 180 ° C for 35 minutes.
- Take out of the oven. Let the cake cool and unmold the cake once it is cold by turning it over a fountain.
- Melt the chocolate to the bain Marie.
- Cover the cake with the molten chocolate.
- Decorate with coconut and orange zest previously reserved.
How to serve an orange cake?
Cut in portions and place on a dessert plate. Optionally it can be accompanied with a spoonful of orange marmalade.

More recipes and information on cocoa and chocolate
Other interesting articles
This material is for informational purposes only. In case of doubt, consult the doctor.
"Botanical" is not responsible for damages caused by self-medication.