What does amaranth provide?
Amaranth does not contain gluten
Note that amaranth DOES NOT CONTAIN GLUTEN PROTEIN, so that its grain and flour is suitable for coeliacs.
* More information in new window: what is the biological value of protein?
Main components of amaranth
From amaranth is is worthy to emphasize the nutritional content of its grain:
Carbohydrates. they are the major component of the grain, accounting for 60% thereof. They are specially composed of starches.
Proteins. Amaranth has a protein content higher than that of cereals, about 16% (13 to 16%). The importance of its biological value is based on its content in the amino acid lysine, an amino acid which is deficient in all cereals, and methionine, the limiting amino acid in legumes.
However, amaranth is deficient in tryptophan, which is abundant in the food sources mentioned above. For these reason amaranth goes perfectly with legumes and cereals because they all can complete the biological value of proteins.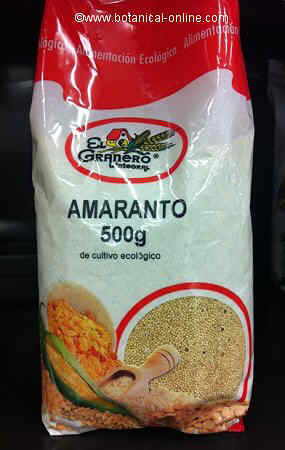 Amaranth packed
Other components of amaranth
Phytochemicals: phytosterols (beta-sitosterol), anthocyanins, phytic acid, phenols.
Squalene: Squalene is an organic acid that helps lower cholesterol and is anticarcinogenic. The main source is shark oil, containing 1% of this acid, while amaranth has a percentage of 8%.
Other phytochemicals: 16 kinds of betacyanins (red-violet pigments), 3 types of betaxanthins (yellow pigment). All these substances have antioxidant properties and it is estimated that its antioxidant activity is three times the antioxidant power of vitamin C.
Nutritional composition of amaranth
Since in the Andean regions the fresh plant leaf is often consumed, it is believed to be desirable to add as a food the nutritional content of it.
The plant leaf amaranth is consumed almost from sowing in the form of sprouts, tender leaves in salads, or, once ground, to be served as soup. Its properties as a leafy vegetable are similar to those of other vegetables: rich in fiber, minerals and vitamins and low in calories. Diets rich in vegetables are very basifying.
Nutritional composition of amaranth per 100g
Nutrient
Raw leaf
Seed

Calories (Kcal)

23

374

Carbohydrates (g)

4.03

66.2

Protein (g)

2.46

14.45

Fats (g)

0.33

6.51

Saturated (g)

0.10

1.66

Monounsaturated (g)

0.08

1.43

Polyunsaturated (g)

0.15

2.89

Fiber (g)

No analized

15.20

Phytosterols (mg)

No analized

24

Vitamin A (retinol)

292

No analized

Vitamin E (mg)

No analized

1.03

Vitamin C (mg)

43.3

4.2

Vitamin B1 or thiamin (mg)

0.03

0.08

Vitamin B2 or riboflavin (mg)

0.16

0.21

Vitamin B3 or niacin (mg)

0.66

1.29

Vitamin B9 o folic acid (mcg)

85

49

Calcium (mg)

215

153

Magnesium (mg)

55

266

Phosphorus (mg)

50

455

Potassium (mg)

611

366

Iron (mg)

2.32

7.59

Zinc (mg)

0.90

3.18

Manganese (mg)

0.88

2.26


More information on amaranth
This article was endorsed by
Elisenda Carballido
- Dietitian nutritionist. Postgraduate in Phytotherapy and master in Nutrition and Metabolism.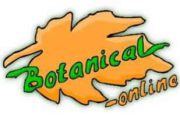 Written by
Editorial
Botanical-online team in charge of content writing