EDIBLE PROPERTIES OF MELON
MELON PROPERTIES
Melons are rich in vitamin A and vitamin C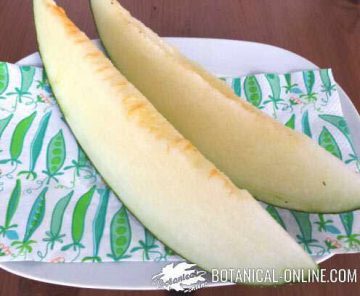 Melons are a food rich in vitamin A, in the form of beta carotene. Once ingested, the body converts it into vitamin A, one of the best antioxidants. The intake of this vitamin can help prevent many diseases and prolong life delaying aging.
Melons having and orange flesh possess a larger amount of this vitamin, especially the variety Cantalupo.
Beta-carotenes are the principles that provide the yellow color to these varieties. Other green or yellow varieties have not so much vitamin A.
Another very important vitamin that melon contains with antioxidant properties is vitamin C. Among other properties, it helps form collagen which makes it ideal for healing wounds caused by trauma, cuts, burns, surgery. It also will be suitable for the formation of new tissue in problems of broken bones, sprains, torn ligaments, etc..
In a addition to vitamin A, melons have quite high amounts of vitamins of group B. Among them, specially pyridoxine (vitamin B6) whose function in the body is to perform the metabolism of carbohydrates, fats and proteins besides regulating the nervous system.
Deficiency of this vitamin can cause, among other symptoms, nervousness, sleep problems, learning difficulties, muscle weakness, etc.. It also contains Vitamin B3 (Niacin) for body cells to be able to produce energy. This vitamin helps maintain cholesterol levels low, lowers blood pressure, protects the digestive system and allows us to have good skin.
Eating melons makes us stronger and better-looking
Therefore, profiting the vitamin wealth of melons is a good way to dispose of these vitamins in a natural way, without having to resort to vitamin supplements that can cause overdose problems.
Eating melons in abundance during the summer months, will calm the thirst hydrating the body. We will enjoy its sweetness and, more importantly, we will strengthen the body's defenses against foreign polluting products or toxins of our own body.
Nor should we forget that our skin suffers many attacks from excessive solar radiation, dry atmosphere of the beach, or a lack of moisture during this season. Melons help keep skin in good condition and help as have a nice shiny hair, while they protect us from sunlight allowing a more attractive and secure suntanned look.

Main curative properties of melons
Melons are quite rich in minerals
We must not forget the wealth of melons in minerals, especially iron and manganese. The first one is necessary to prevent anemia; the second is required for the formation of bones, nervous system and to take advantage of proteins.
It is believed that manganese deficiency leads to disinterest in sex. In this sense, this fruit is considered as a good aphrodisiac.
Melons are very rich in potassium that counteracts sodium, which increases urination allowing the body to remove excessive water.
What are more fattening, watermelons or melons?
Despite their sweetness, melons are very light. They only have between 20 and 30 calories per 100 g depending on the variety you choose. They can be eaten liberally without any danger of gaining weight, so they can be included in low fat diets.
It is usually believed that watermelon has a lot fewer calories than melon and therefore it is less fattening. The differences are very small. 100 g of cantaloupe or honeydew provide 35 calories, while 100 g of watermelon provide 32, which indicates that they have virtually the same caloric power. (There is only a difference of just over 1 carbohydrate ) If we consider that the potassium content of watermelon is nearly half that of the melon, probably you come to the conclusion that melon can be better than watermelon in the diets of people who want to remove fluid or lose weight.
We rate the melon as authentic "low-calorie sweet snack" when compared to other sweet foods, such as cookies or chocolate. Giving a piece of fresh melon as a snack for children is a good way to reinforce them and, at the same time, to avoid the craving sweets.
The calories from carbohydrates provide longer lasting energy and less contraindicated fats. Eating melon can maintain levels of blood sugar stable what reduces hunger and avoids having to eat other less suitable foods as a result of craving for food.
Melons in the kitchen
There are many ways to eat a melon. The easiest way is to do it as a fruit, cutting it into small pieces or dice-shaped elongated slices. Melons combine well with other vegetables which can be used to sweeten salads.
One useful way is to cut small pellets with a tool as that used for ice cream balls and place it on the salad. They can also be served with other fruits to make great salads that can be served cold. It is universally known the following salad recipe which is prepared serving it within the same melon crust as plate:
As a starter it is used in countries like France. This is usually accompanied by wine filling its center, once the seeds have been removed.
Its role is well known to accompany other dishes with more protein (lean meats, cheeses lightweight, sausages, etc). Here its ability to digest this food allows to take advantage of proteins, besides giving a refreshing and exotic touch to these preparations.
Melons have a digestive value because they are able to stimulate certain hormones that allow to disaggregate other foods better. It is well known in this regard the dish that is made with a thin slice of ham on bread with a little oil and a slice of melon. The slice of melon softens the texture of the ham and counteracts the salt.
Melons contraindications
Despite being a very compatible food we have to keep in mind that melons do not mix well with some foods:
Starches and cereals, eggs, milk, butter or very fatty cheese, high-fat meats or oils. It is necessary to eat them ripe, otherwise, they will be hard to digest.

Photo of different varieties of melons
Nutritional composition of raw melon
Composition of raw melon per 100 g
Cantaloup
Honeydew
Water

89, 78 g

89,7 g

Calories Kcal

35 Kcal

35 Kcal

Fat

0, 28 g

0,10 g

Carbohydrates

8, 36 g

9,10 g

Fiber

0,8 g

0,6 g

Potassium

309 mg

271 mg

Sodium

9 mg

10 mg

Phosphorus

17 mg

10 mg

Magnesium

11 mg

7 mg

Calcium

11 mg

6 mg

Vitamin C

42 mg

24 mg

Vitamin A

322 IU

40 IU

Vitamin B 1

0.036 mg

0,077 mg

Vitamin B 2

0,0 21 mg

0,018 mg

Niacin

0, 574 mg

0,600 mg

Folic acid

17 mg

6 mg
Melon salad served in its crust
Ingredients:– A medium melon

– Varied fruit: apples, pears, cherries, mango, etc.

– Nuts: walnuts, hazelnuts,

– Sugar cane

Preparation:

– Split the melon in half lengthwise. Remove the seeds and, with the help of a tool to make ice cream balls, remove all the pulp leaving it in a bowl.

– Peel the fruits and add the same weight of varied fruits to the melon pulp.

– Add a few walnuts or hazelnuts.

– Add a tablespoon of sugar cane.

– Stir well.

– Place the mixture on both halves of the empty melon crusts.

– Leave it in the fridge for a few hours

Ways to serve:

Serve chilled as a dessert or snack.


More information on melon properties 
This article was endorsed by
Elisenda Carballido
- Dietitian nutritionist. Postgraduate in Phytotherapy and master in Nutrition and Metabolism.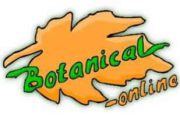 Written by
Editorial
Botanical-online team in charge of content writing